Exercise Referral
This Welsh Government funded scheme is designed to provide opportunities to exercise that are fun, rewarding and that can be incorporated into everyday life
Research has shown that regular exercise can have a big impact on health and wellbeing. Some studies have shown that physical activity can improve mood and reduce symptoms of anxiety and depression as well as having other physical health benefits.
It is important to always choose an activity that suits your abilities and level of fitness and preferably something which you enjoy. Having help and support when you start out exercising can be a great way to stay motivated and feel results.
If you have been inactive for a long time or suffer from a long-term health condition you may be eligible for the Exercise Referral Scheme.
National Exercise Referral Scheme
The scheme offers an individual 16-week activity programme designed for you and during this time, You can access Leisure Facilities at a concessionary rate. Make an appointment with your GP to find out more.

For more information click on leaflet below: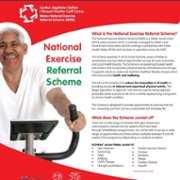 You can also contact Jamie Lane at Barry Leisure Centre on 01446 403000 for Vale of Glamorgan referrals or David Penikett at Western Leisure Centre on 02920 872924 for Cardiff referrals.
For more information about local clubs and exercise schemes see the Physical Wellbeing page