Vascular Ultrasound (Doppler Scan)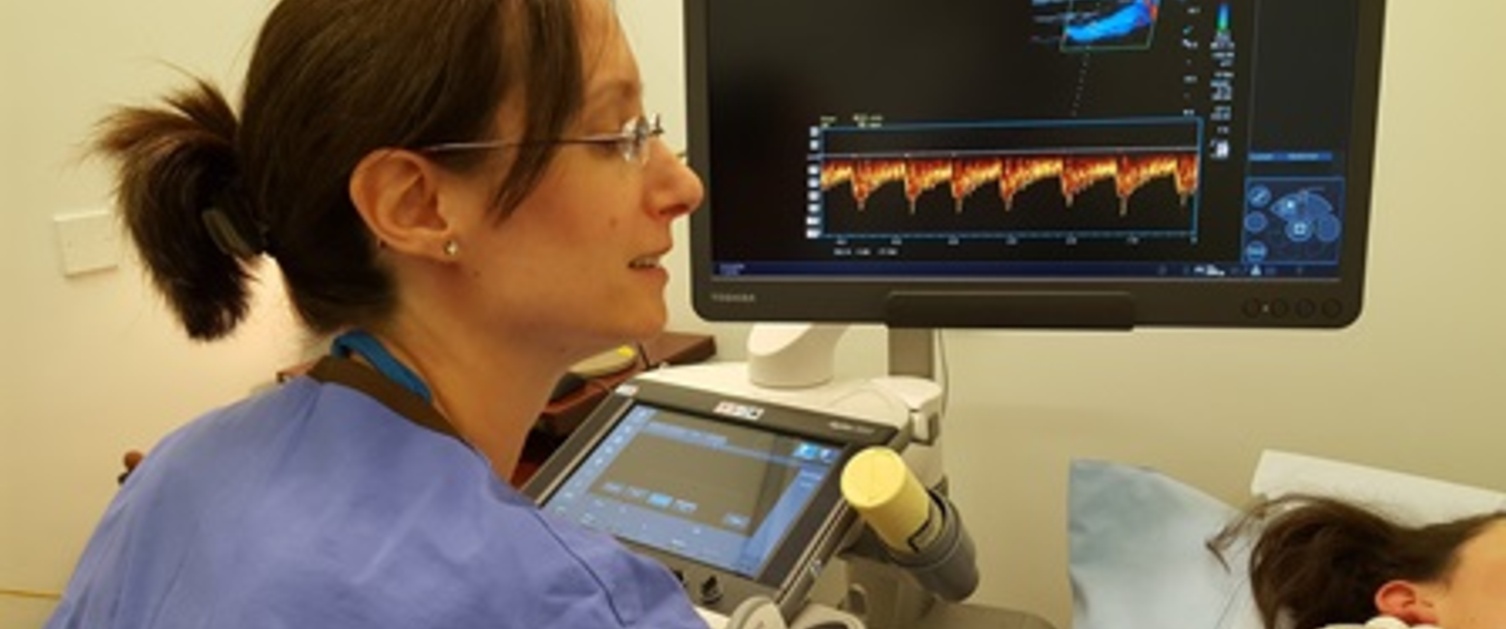 Vascular Ultrasound is open from 8.00am to 4.30pm, Monday to Friday. We are based at the University Hospital of Wales on the Ground Floor - see the UHW department plan for directions.
For booking enquiries please ring 029 2184 3547.
Our Medical Physicists / Clinical Scientists
Natalie Bales
Eleanor Blaxland
Dr Kate Bryant (Section Lead)
Dr Declan Coleman
Dr Rhys Morris
Dr Michal Pruski
Christopher Williams
Dr Paul Williams
They are supported by a team of healthcare assistants:
Mia Clissold
Lucy Thompson
Lingjing Zhang
Administrative support is provided by:
What is a Doppler Ultrasound Scan?
A Doppler Ultrasound Scan is a test that uses high frequency sound waves to image the blood flow through the major vessels in the body. It allows assessment of the blood flow through the major veins and arteries, such as those in the legs, arms and neck.
Abnormal blood flow, such as a narrowing or occlusion of the major vessels can be detected. It is a simple, non invasive and painless procedure that does not involve any needles or being put in a tunnel.
Types of scans performed
Upper and lower limb veins for Deep Vein thrombosis (DVT)
Lower limb arteries for peripheral vascular disease
Upper limb arteries for occlusive disease and Thoracic Outlet syndrome (TOS)
Carotid arteries for suspected Transient Ischaemic Attack (TIA) or stroke
Fistula scans, fistula flow studies and vascular access
Varicose veins scans and pre surgery marking of veins
Graft surveillance post vascular surgery
Abdominal Aortic Aneurysm (AAA) surveillance
Endovascular Aneurysm Repair (EVAR) surveillance post AAA repair
DVT Clinic
This is a haematology run outpatient service for local GPs, unscheduled care and outpatient clinics in the Cardiff and Vale UHB area, who have patients that present with symptoms of a suspected lower limb DVT.
The clinician can phone and get an appointment for his patient either the same or next working day. The patient will be assessed by a DVT specialist nurse, a Doppler Scan performed and the patient treated if a DVT is found.
The service is based in Medical Physics and is open 8.30am to 4.30 pm, Monday to Friday. For enquiries phone 029 2184 8729.
What happens during the scan?
No special preparation is required for a Doppler Scan. The patient will be asked to lie on a couch and a small amount of gel applied to the skin of the area being examined. The Medical Physicist performing the scan will slide the handheld probe up and down the area being examined.
The probe sends images to the ultrasound monitor where they will be viewed and recorded by the physicist. After the scan is completed, the physicist will analyse the images and report the findings of the scan to the referring doctor.
Contact details
DVT clinic: 029 2184 8729
Other enquiries: 029 2184 3547