Outpatient Clinic Information
All of our CF outpatient clinics are held on the ground floor of the CF Centre, except for Mycobacterium abscessus and Burkholderia cenocepacia clinics, which are held either in main outpatients or in our single special infection consultation room located at the front of the CF centre (facing main road). Location for your review will be clearly indicated on your clinic letter.
We ask that you keep a record of when your next appointment is and inform us as soon as possible if you cannot attend the date/time given so that we can offer the slot to another patient. Ideally at least 72 hours before a planned routine clinic appointment and at least 1 week for an annual review where possible. This will help us to run a smooth and efficient outpatient service, ensuring all appointment slots are filled as appropriate.
Patients with CF are at risk of cross-infection with bugs from other people with CF; therefore, our clinics are organised to minimise any potential risk. It is important therefore for you to turn up for your appointment on time, unless you have contacted us to inform us you will be late due to problems such as parking or road congestion issues. A specific appointment slot is allocated to ensure we are able to allocate you a clinic consultation room as soon as you arrive. Each of these rooms are cleaned before and after each patient use. Virtual clinic appointments are offered for every clinic by arrangement.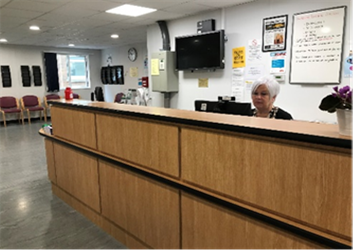 If you are unable to make your appointment, please contact the CF co-ordinator to rearrange; 02920 715987
Satellite Clinics
Satellite clinics in Aneurin Bevan and Cwm Taf, on hold since the start of the Covid-19 pandemic will be re-established as soon as possible. Plans to establish a satellite clinic in Swansea Bay locality will resume in the near future.
Virtual Consultations - Resources for Patients
Outpatient Clinics
Day of Week
Morning
Afternoon
Monday

Pseudomonas clinic (weekly)
Burkholderia cenocepacia (main outpatients or CF special infection consultation room) (weekly)
Annual review follow-ups weekly
New patients weekly

Tuesday

Pseudomonas clinic (weekly)
2nd & 3rd weeks CF/Diabetes joint clinic
Annual review follow-ups weekly
New patients weekly
Week 4 quarterly CF/liver joint clinic

Wednesday

Annual reviews (every week – all day)

Thursday

1st, 3rd & 4th weeks Staphylococcus/normal flora only clinic
1st, 3rd & 4th weeks Mycobacterium abscessus clinic (main outpatients or CF special infection consultation room)
Annual review follow-ups weekly
New patients weekly
Week 2 Burkholderia cepacia
1st & 3rd weeks each month Carmarthen satellite clinic

Friday

Weeks 1&3 Staphylococcus/normal flora only clinic
Weeks 2&4 Pseudomonas aeruginosa clinic
New patients weekly
Annual review follow-ups weekly