Travel Benefits
As official partners of Cardiff & Vale Health Charity and Cardiff and Vale University Health Board, Nathaniel Cars have some fantastic offers for employees!
Visit: Staff Offers or for further information on the range of cars available visit https://www.nathanielcars.co.uk/partners/cvuhb/
Silver Privilege Card
Every employee of Cardiff and Vale University Health Board is eligible for an exclusive FREE Silver Privilege Card with Nathaniel Cars: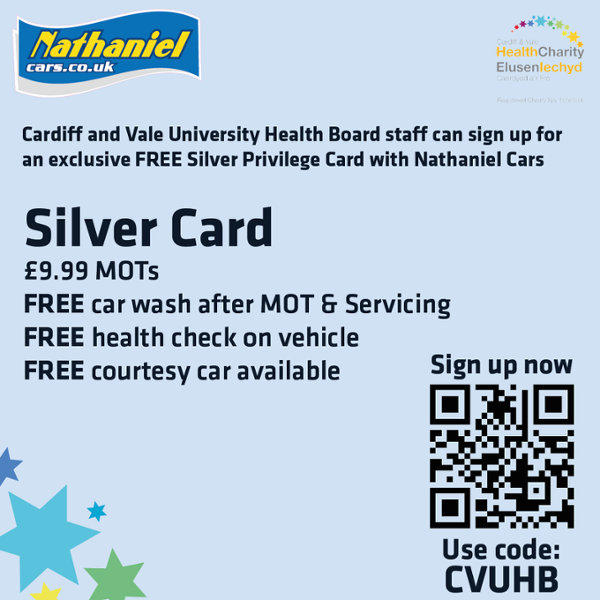 Visit: https://www.nathanielcars.co.uk/partners/cvuhb/ and use promo code CVUHB.
Avanti Travel Insurance
Avanti Travel Insurance is giving 21% off base price to all NHS staff, friends and family for keeping our loved ones and the public safe.
NHS heroes deserve a relaxing holiday, Avanti Travel insurance policy can give you just that with COVID-19 Cover as standard & FCDO Cover add on for trips to all but essential travel countries.
Use discount code HERO21 with a valid NHS email address when booking.
Website link: https://www.avantitravelinsurance.co.uk ​
Bus Pass Scheme
The UHB operates a scheme which allows employees to purchase a Cardiff Bus iff Card by salary deduction to help spread the cost. This scheme enables employees to obtain an annual ticket and make payment via UHB payroll, and is run in association with Cardiff Bus. For further information please contact the Transport Department on 029 2074 4165.
Cycle to Work
The UHB operates a Cycle to Work scheme (via salary sacrifice). The scheme, which is provided by Vivup (previously Connected Benefits), enables cycles to be sourced through local bike shops or by mail order. There are two order windows per year in the Spring and Autumn. Find further information here, or contact Colin McMillan on 029 2074 6388.
Lift Sharing
Thousands of people around the UK are signing up to car-share, so your chances of finding someone to share with are better than ever.
If you're not sharing yet, or still have some empty seats to fill, just take two minutes to go to https://liftshare.com/uk/community/cardiffandvale and see who else is travelling into the UHB. Registration is completely free. Car-sharing is not only environmentally friendly, but could also save you around £1,000 a year.