Quality Standards
The Centres have all achieved the following quality standards:
Carer Friendly has been designed by Carers Trust South East Wales in collaboration with carers, to improve and increase access to information and support for carers across the UK. We are working with services to provide them with the tools, training and support to establish good practice and to celebrate the great work they do to support carers.
The three Information and Support Centres achieved Bronze status in June 2019 and Silver status in May 2020.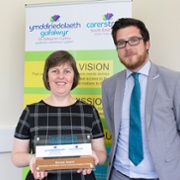 Macmillan Quality in Information and Support Services (MQuISS®)
Achieved in January 2019.
This award recognises excellence in developing, delivering and improving information and support services and meeting the changing needs of people affected by cancer.
Macmillan Quality Environment Mark (MQEM®)
Reawarded to the Macmillan Information and Support Centre, August 2019
Awarded to the Information and Support Centres in Barry Hospital and University Hospital Llandough, August 2019
This award recognises and rewards good practice and high standards within the physical environment of a cancer care building.
Macmillan Volunteering Quality Standards (MVQS®)
Achieved August 2019
This award recognises the contribution to raising standards in volunteering across Macmillan. Read the Macmillan blog about this achievement.