COVID-19 Vaccinations and Ramadan
Members of the Muslim community are currently observing Ramadan, which will end on the evening of Thursday 20 April. (Subject to moon sightings)
Ramadan involves a daily period of fasting for Muslims starting at sunrise and finishing at sunset over the month. This means abstaining from food, drink (including water) and smoking. While fasting is an important part of Ramadan, it is also a time of self-reflection and self-evaluation for Muslims. This self-reflection normally takes place in the evenings after sunset, and can sometimes extend long into the night.
Can I take the COVID-19 vaccine while fasting?
Taking the COVID-19 vaccines currently licensed in the UK does not invalidate the fast, as per the opinion of Islamic scholars. Individuals should not delay their COVID vaccinations on the account of Ramadan.
Subcutaneous, subdermal, intramuscular, interosseous,or intra-articular injections for non-nutritional purposes whilst fasting do not invalidate the fast, regardless of the injected content entering the blood circulation. These routes are not classed as entry sites that could invalidate a fast. Receiving the COVID-19 vaccine as an intra-muscular injection, the only route for the vaccines currently available, therefore does not invalidate the fast.
Please watch this following video message from local Community Pharmacist, Raj Aggarwal for more information.
Muslim Doctors Cymru have lots of information and advice on the vaccine including videos from GPs, Community Pharmacists, dentists and community leaders, which can be accessed on their Facebook and Twitter accounts.
Further information is also available from the British Islamic Medical Association, and the Muslim Council of Britain.
What if I experience intolerable side effects?
Most side effects are mild, lasting a few hours, and self-limiting.
However, should an individual become more unwell after receiving the vaccine then the general principles pertaining to illness and fasting apply. These have been described in detail and outlined in the figure below which is adapted from the BIMA Rapid Ramadan Review and Recommendations which can be reviewed for more information.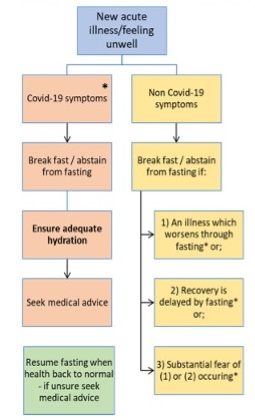 *determined by any of the following:
Prior experience of fasting with such an illness.
Common knowledge
The advice of an appropriate healthcare practitioner
The information on this page is a guide. For further information or advice, please contact your healthcare professional.