eJob Planning & eSystems

Allocate Websiteor type "My Job Plan" into Google"
Overview
Medical Job Planning is online! Cardiff and Vale University Health Board is pleased to have moved to a new e-job planning system to support Clinical Boards in their job planning processes with Medical and Dental Consultants and SAS doctors being the main groups included. The world is becoming increasingly digital, facilitating more dynamic and adaptable processes and the new electronic system hopes to bring with it the following benefits: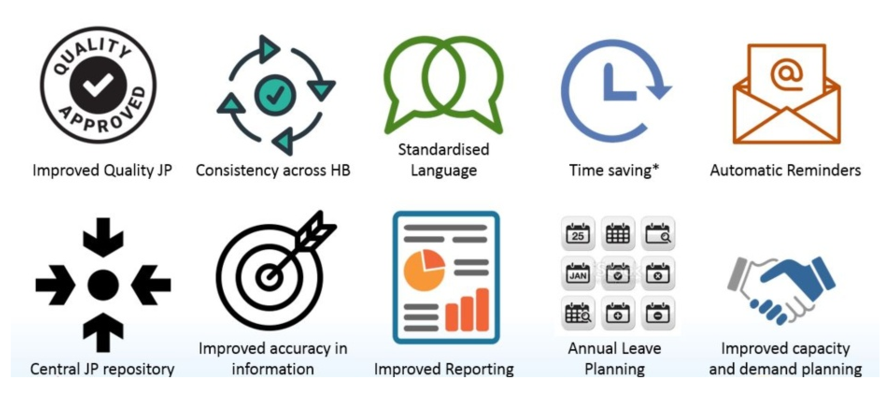 e-Job Plan - Where are we now?
We have now completed our first 6 months on e-Job Plan and are really pleased with the progress we've seen so far. The quality of job plans is excellent and departments are starting to see the benefits of having clear and consistent information in one place and to hand, electronically. As we progress further, and more and more job plans are entered, we will be able to help departments utilise the reporting features. This will assist with improved capacity and demand planning and hopefully aid the COVID recovery process.
April saw the first of our Job Planning drop in clinics where we had some interesting conversations and topics raised. We hope to hold these every two to three weeks, welcoming questions in advance and suggestions of topics you would like us to cover. Details of the sessions are on the e-Job Planning Teams channel or contact Kirsten.Mansfield@Wales.nhs.uk for more details.
ANNUAL JOB PLANNING CYCLE

QUARTER 2

JULY TO SEPTEMBER

Clinical Director sends out preparation for an invitation to job plan review with preparation guidelines, giving six weeks notice

QUARTER 3

OCTOBER TO DECEMBER

Team job planning meeting to discuss and agree objectives, supporting professional activities list and any required rota Changes.
Individual job planning meetings take place.
Job plans entered on electronic job planning system by 31st December. This allows three months for the mediation/appeals process.

QUARTER 4

JANUARY TO MARCH THE FOLLOWING YEAR

Mediation and/or appeals completed as soon as possible, in line with the timeframe agreed under the 2004 consultant contract. Pay progression and clinical excellence awards eligibility taken forward for all who have an approved job plan.

QUARTER 1

APRIL TO JUNE THE FOLLOWING YEAR

Job plan effective 1st April
Your e-Job Planning Team
Kirsten Mansfield
Medical & Dental eSystems Adviser
Kirsten will support the implementation throughout the whole organisation and will be your main point of contact. She is available to assist both managers and consultants in the job planning process and will oversee the system administration and governance.
Stephanie Collins
Senior Medical Workforce Officer
Stephanie is from the New Deal & EWTD office but is also supporting the implementation of e-Job planning. She is available to assist both managers and consultants in the job planning process.
Adam Christian
Consultant Cellular Pathologist – Job Planning Lead
Adam is the job planning lead for the Health Board, his role will be to facilitate consistent and fair job planning, as well as support with the use of the e-Job planning platform
Richard Skone
Assistant Medical Director for Workforce and Revalidation
Richard is the Assistant Medical Director for Workforce and Revalidation. As such, he will be responsible for managing appeals and ensuring consistency across all clinical boards