eJob Planning & eSystems
e-Job Plan - Current Position
The Allocate e-Job Planning system has now been in place for 18 months and progress has been excellent! Engagement from all Clinical Boards is hugely appreciated and has resulted in over 80% of job plans for Consultants and SAS Grades being held on the system. This gives Clinical Directors and Service/Directorate Managers a wealth of information to aid with overall service planning and Covid recovery plans. It enables them to see who they have, where they are and what is being delivered. Valuable information given the current pressures!
All Consultants and SAS Grade Doctors need to have their job plan renewed each year.
Ideally the previous job plan would be fully signed off but if this is not the case you can still, and should, publish a new plan when the previous one is 12 months old or when aligning your plans to the Annual Job Planning Cycle (see cycle below).
The Allocate job planning system allows you to publish a new job plan, regardless of the stage, but the process will be slightly different for each. Any plans that have been signed off and have not changed can simply be renewed for another year. Quick Win!!
Options: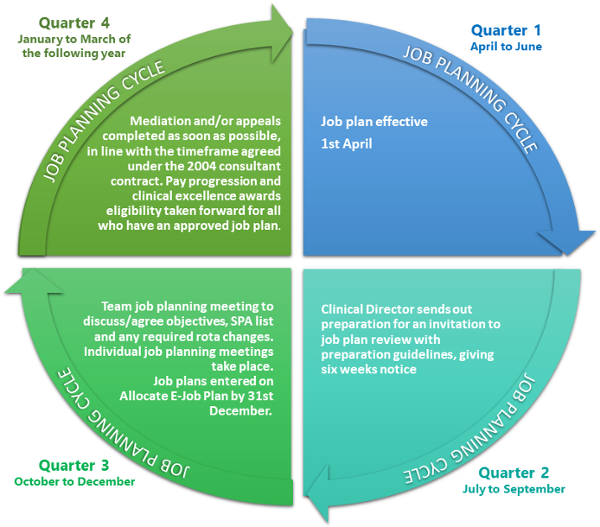 Your e-Job Planning Team
Kirsten Mansfield
Senior Medical & Dental eSystems Adviser
Kirsten will support the implementation throughout the whole organisation and will be your main point of contact. She is available to assist both managers and consultants in the job planning process and will oversee the system administration and governance.
Stephanie Collins
Senior Medical Resourcing & Systems Officer
Stephanie is from the New Deal & EWTD office but is also supporting the implementation of e-Job planning. She is available to assist both managers and consultants in the job planning process.
Adam Christian
Consultant Cellular Pathologist – Job Planning Lead
Adam is the job planning lead for the Health Board, his role will be to facilitate consistent and fair job planning, as well as support with the use of the e-Job planning platform
Richard Skone
Deputy Medical Director
Richard is the Deputy Medical Director . As such, he will be responsible for managing appeals and ensuring consistency across all clinical boards