Volunteers' Stories
Vernon Thompson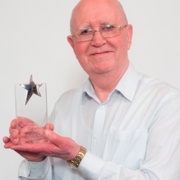 Vernon Thompson has been volunteering for the Mental Health Service since May 2010.
Vernon was recently honoured at the Staff Recognition Awards as "Volunteer of the Year 2015".
When Vernon's beloved wife Avril became ill with dementia, he became her sole carer for many years and refused all offers of help, until eventually she was admitted to St Barruc's Ward in Barry Hospital. Vernon continued to visit her every day and became well known by all the staff and patients.
Sadly, when Avril passed away there was a huge void in Vernon's life. Encouraged by the Ward Manager, Vernon decided to fill this void and become a volunteer.
Vernon volunteers on most days of the week at two wards - St Barruc's Ward in Barry Hospital and East 14 at University Hospital Llandough. He provides valuable support for patients and their carers suffering with varying degrees of dementia.
Vernon talks and listens to patients and their carers and joins in group work, plays dominoes, card games, etc, takes patients into the gardens and makes tea for them. Patients look forward to his visits and he is well known to them. He takes time to chat with carers, as he knows through his own experience about the effect this illness has on families, and is there as support and a friendly face for them.
Jill Griffiths, Voluntary Services Co-ordinator (Mental Health) said: "It has been a privilege and an honour to have this caring, compassionate man as a volunteer within Mental Health Services.
"He is reliable and committed to his voluntary work and he possesses all the essential and desirable qualities for his volunteer role.
"He really deserves the title 'Volunteer of the Year Award' 2015. Congratulations and thank you Vernon from all the staff and patients of Cardiff and Vale Mental Health Services, who have benefitted from your remarkable commitment and support."
---
Whitchurch League of Friends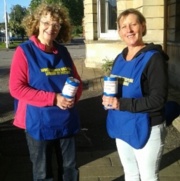 Volunteers Liz Cridland and Ruth Young have been active fundraisers for the Whitchurch League of Friends for several years, choosing to support charities they believe in.
Liz and Ruth primarily fundraise through a stall at local village fayres, through book sales and jumble sales.
Both ladies have a commitment to supporting voluntary causes close to their hearts and they enjoy attending the local fayres to represent the League of Friends.
Liz and Ruth attend a monthly committee meeting, which gives them the opportunity to champion their cause and influence the support given to the hospital community
Simone Joslyn, Clinical Project Lead for the Adult Mental Health Unit at Whitchurch said: " The Whitchurch Hospital League of Friends make a huge difference for service users. The monies the charity provides allow the staff to provide home comforts to improve the ward environment.
"As we prepare for the transfer of services to University Hospital Llandough, the League of Friends funds have kindly given us funds to ensure that artwork can be installed within the building, making the wards look more friendly and inviting. The funds they provide to support the work we do is much appreciated."