Beam - Feel Good
What is Beam?
Beam is an online platform to help people with cystic fibrosis to feel good through movement, education and wellbeing support with a variety of on-demand and live classes. Our live and on-demand classes are led by the Physiotherapy or Exercise Team.

What to expect from our community on Beam

The All Wales Adult CF team deliver group or one to one exercise sessions virtually via our community on Beam.
You can see a familiar face host a variety of exercise classes from Monday to Friday, which can be accessed for free once signed up to Beam using our promo code;
BEAM-CLINICS-ALL-WALES
Our live class schedule is updated weekly and we are always open to feedback, adapting the live class times to suit individual schedules. Alongside this, we upload on demand exercise content onto Beam for you to complete at a time and place that suits you.
We also use Beam to host our exercise themed challenges throughout the year. This gives you the chance to contribute and share your achievements within the community.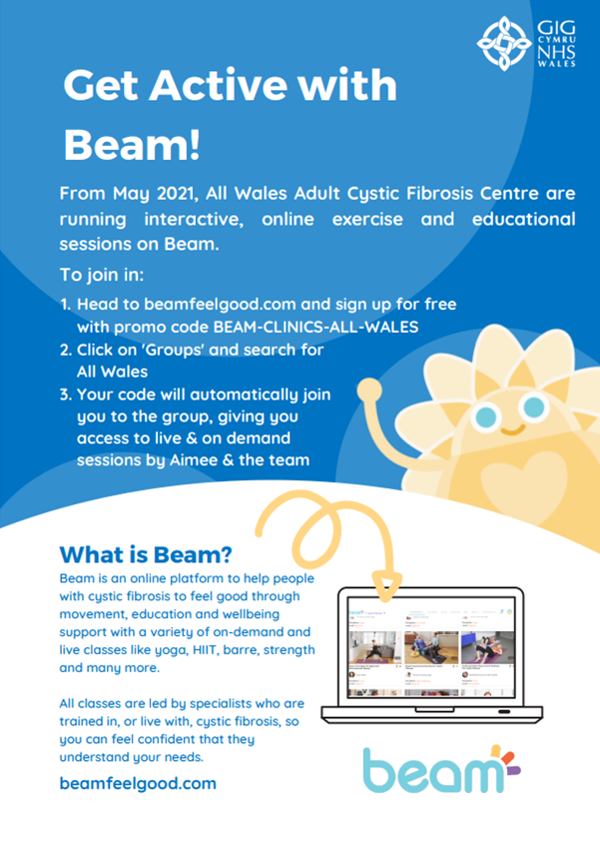 Beam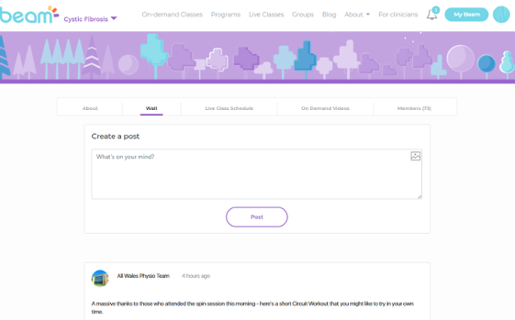 Wall
Beam groups have a community wall where you can share messages and ask questions.
The team will also post work outs following Live Classes.
Live Class Schedule
The CF team hold live classes for you to virtually attend to join in on work outs... when that extra bit of motivation is needed!
In the Live Class tab, you can see all the scheduled classes for the week.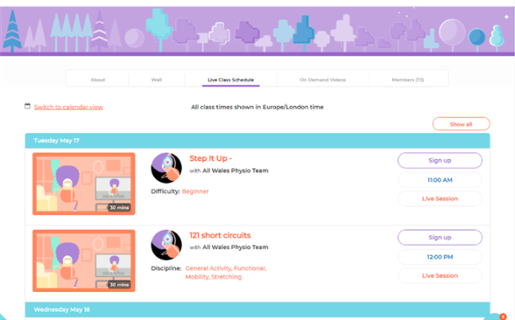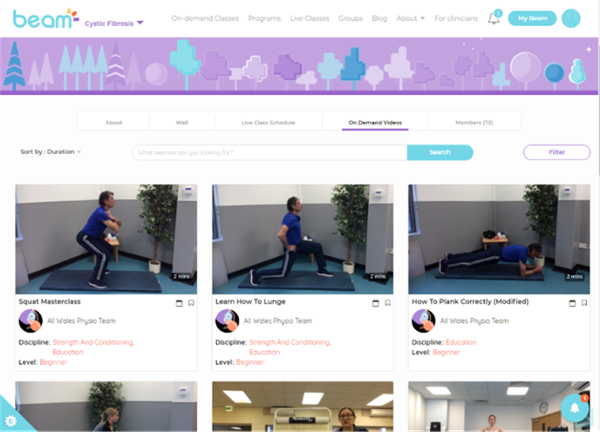 On Demand
The on-demand videos provide a range of pre recorded work outs for you to follow at a time that is convenient for you.
These cover a range of topics, from 2 minute videos covering techniques to 30 minute spin classes.
My Beam
You can also view your class schedule, track you activity and access saved videos through My Beam. As well as tracking your Beam activity, you can manually add any other activity you may have done.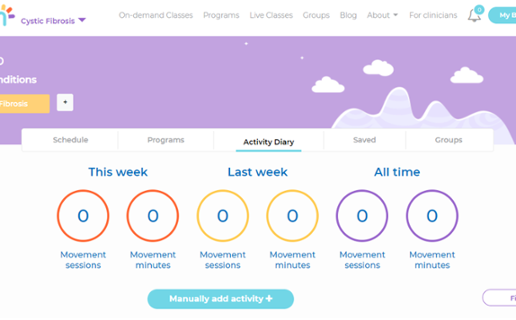 Did you know that we offer a range of fantastic programs tailor made for your condition? Visit the Programs tab to check out available programs.