Programme Information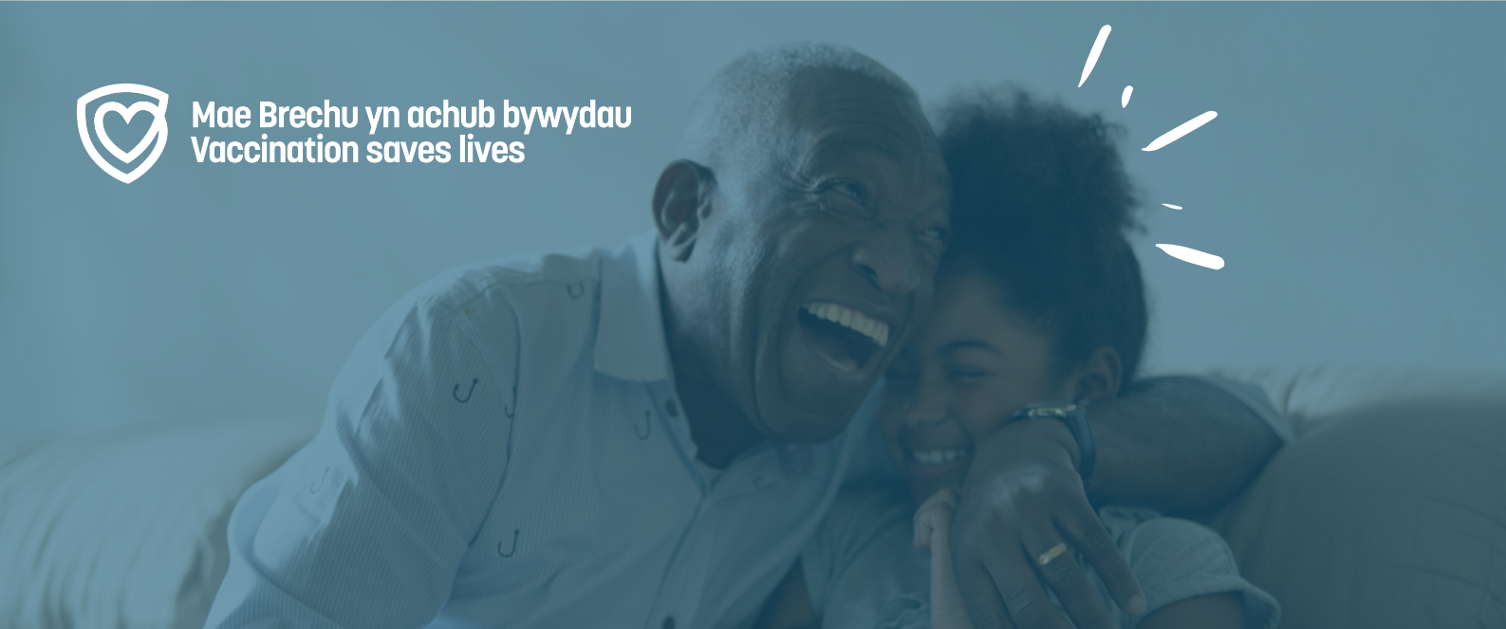 COVID-19 Booster Programme
In light of the threat posed by the new Variant of Concern, Omicron, the Joint Committee on Vaccination and Immunisation (JCVI) has recommended an acceleration to the vaccination programme. Welsh Government has confirmed that the Autumn Booster Programme in Wales will be extended, and all adults aged 18 to 39 years should be offered a booster, in order of descending age groups, to increase their levels of protection.
By extending eligibility and reducing the interval for booster, the aim is to reduce the impact of the new variant on our population, ahead of a potential wave of infection.
The booster will be offered in order of descending age groups, with priority given to the vaccination of older adults and those in a COVID-19 at-risk group. In response to the changing risk posed by the Omicron variant, the booster will now be given no sooner than 3 months after the primary course.
There are still some uncertainties around the Omicron variant which scientists are investigating. Tests are underway to see how effective vaccines are on the variant, including the impact on transmissibility and serious illness. However, the JCVI felt that accelerating the programme would maximise protection for individuals.
In Wales we have already vaccinated more than 75% of over 65-year olds, and 80% of care home residents.
Now more than ever, with the threat of this new variant, it is important that people come forward for their appointments when called, especially those who have yet to take up their first dose.
The vaccines offer excellent protection against COVID, by preventing serious illness it has saved lives and prevented many people from needing to go to hospital.
Cardiff and Vale UHB Booster Programme
We are currently working through the details of our programme and will provide an update on the booster roll-out to further age cohorts in due course. At this stage you do not need to contact your GP practice or the Health Board, when it's your turn we will contact you directly to invite you for your booster vaccination. Please therefore wait to be contacted with the details of your appointment.
If you have already been offered an appointment please keep this appointment, cancelling or delaying an appointment means someone else may have to wait longer to get protected.
We will be vaccinating with mRNA vaccines at all our sites. These vaccines, which have been approved for use in the UK, have met strict standards of safety, quality and effectiveness. These mRNA vaccines have been shown to substantially increase antibody levels when offered as a booster dose.
Children and Young People
Offers of a first COVID vaccine have been made to anyone 12 and over in Wales. We will continue to make the offer available to those who have not yet been able to take up the vaccine.
The invitation is a letter from your health board, it does not come from school.
The JCVI has now advised that young people aged 12 to 15 years should receive a second dose of the Pfizer-BioNTech COVID-19 vaccine, no sooner than 12 weeks after the first dose.
The interval for this group (and 16-17s) may be reduced to at least 8 weeks between doses if supported by the emerging epidemiological data.
The decision to have a COVID-19 vaccine is a choice for each individual to make.
We are encouraging people to discuss their choice as a family, and take time to look up accurate information from trusted sources, such as 'Vaccination information for children and young people on the Public Health Wales website'.
If you choose to take up the offer, please take the appointment offered to you – even if this means prioritising it ahead of regular activities. The slots are provided specifically for this age group.
Even if someone has had COVID already, it's still worth getting the jab because the more people that get vaccinated, the less likely COVID is to spread.
If someone under 18 has recently had COVID, they will need to wait 12 weeks after infection to be vaccinated. Please let your health board know.
One of the reasons the UK Chief Medical Officers recommended to vaccinate this age group was to prevent disruption to face-to-face schooling. We are still seeing a lot of COVID cases in this age group.
We are asking that everyone in the 12-15 age group to please wait to be contacted, due to the 12-week gap requirement from first primary dose, we will start inviting the majority of this group for their second dose at the beginning of 2022. Please therefore wait to be contacted with the details of your appointment.
Walk-ins for 12-15 year olds
We now offer walk-in clinics at Bayside MVC for those aged 12-15 years old who have not had their COVID-19 vaccination. You do not need an appointment and can walk-in daily from 8:30am – 7:30pm to get vaccinated. Please note 12-15 year olds must be accompanied by a parent or guardian.
We are not currently offering walk-ins for second doses please wait to be contacted. Due to the 12-week gap requirement from first primary dose, we will start inviting the majority of this group for their second dose at the beginning of 2022.
General Programme Information
COVID-19 Vaccination Walk-ins
You can attend one of our walk-in sessions at Bayside Mass Vaccination Centre (MVC) and Holm View Leisure Centre, Barry. We hold walk-ins for first and second doses of the COVID-19 vaccine every day at both these sites. Please note we do not offer walk-ins for booster vaccinations, you will be contacted directly with your appointment details.
You can attend either site from 8:30am – 7:30pm, Monday to Sunday if:
You have not had your first dose of the COVID-19 vaccine, are aged 16 and over and live or work in Cardiff and the Vale
You are due your second dose of Oxford AstraZeneca or Pfizer and it has been at least 8 weeks since your first dose
Please note Holm View Leisure Centre offers first and second doses of Pfizer only
Cancellations
If you are unable to attend your appointment please complete our reschedule form or call us on 02921 841234 to cancel so we can offer the slot to someone else.