Programme Information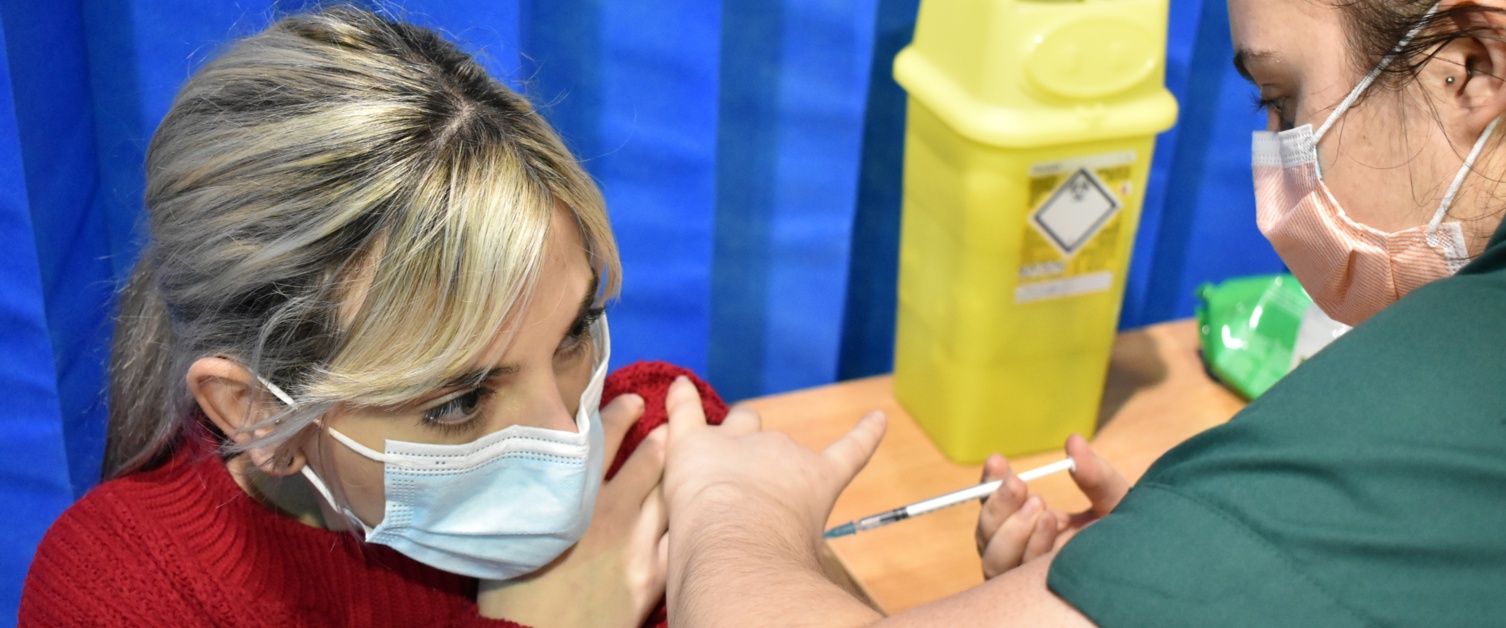 As a Health Board, our aim is to vaccinate as many eligible people as quickly and as safely as possible. We are following the Joint Committee for Vaccination and Immunisation (JCVI) priority groups and having now offered the first dose of the vaccine to priority groups 1-4, have plans in place working closely with our partners to offer these groups their second dose of the vaccine and to also vaccinate groups 5 - 7. These are:
People aged 65 - 69 - delivered by GP practices
People with underlying health issues - delivered by Mass Vaccination Centres
People aged 60 - 64 - delivered by Mass Vaccination Centres
Those who are housebound in any of the groups will have their vaccine delivered by our Mobile Vaccination Team.
All cohorts will be invited to attend an appointment by the Health Board or your GP Practice so you do not need to call us for an appointment.
We currently have three Mass Vaccination Centres, in Splott, Pentwyn and Barry, and a satellite clinic at University Hospital Llandough.
For further information and FAQs on the delivery, eligibility and safety of the vaccine, please visit: About the vaccine - Public Health Wales (nhs.wales)
Second doses of Pfizer
We are currently bringing forward some second doses of Pfizer as we have both vaccine and capacity available over the next few weeks.
The doses we have in the region are earmarked for second doses only at the moment so every person who has received their first dose of Pfizer will receive their second dose as planned. People who are having their appointment brought forward will have received a text message cancelling their existing appointment.
Please be assured if you have received a cancellation message you will receive a new text message with a new appointment time within a couple of days. We apologise for any inconvenience and worry the message may have caused but the text messages are sent through the national booking system with standard wording.
If you have not received a cancellation message your appointment will remain as it is so you do not need to be concerned or contact us.
Everyone who has had the first dose of Pfizer will now receive their second dose between 4 and 12 weeks which is in line with the MHRA guidance and the vaccination will be effective.
We appreciate the anxiety this may have caused as the timings have already changed but the decisions we make depend on our vaccine supply and our aim is to protect our population as quickly as possible.
Second doses of Pfizer are being delivered at our Splott Mass Vaccination Centre and our satellite clinic at the University Hospital Llandough.
There are currently no plans to vaccinate more people with first doses of Pfizer over the coming weeks while we prioritise the second doses.
Oxford AstraZeneca will continue to be delivered as first doses while we continue the vaccination programme.
Oxford AstraZeneca
Oxford AsatraZeneca has been delivered by our GP Practices since December and our Mass Vaccination Centres at Pentwyn and Barry are now administering first doses to the community.
Second doses of Oxford AstraZeneca currently remain at 11 weeks. All appointments are auto scheduled and depending which priority group you are in you will either be invited by your GP Practice or Health Board. Please remain patient while we work through the priority groups and try and keep phone lines busy unless we ask you to contact us.
Further details
Further details on each of the priority groups and how they will be contacted can be found below.