Programme Information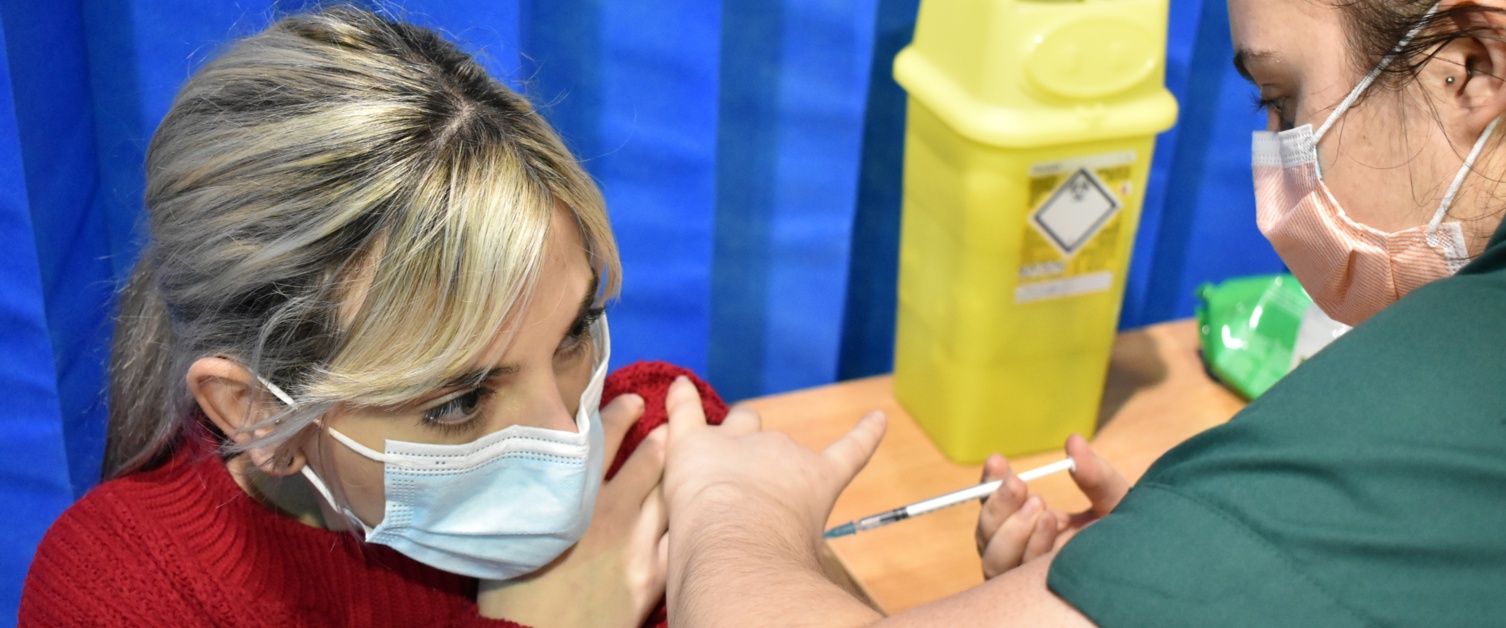 As a Health Board, our aim is to vaccinate as many eligible people as quickly and as safely as possible. We are following the Joint Committee for Vaccination and Immunisation (JCVI) priority groups and having now offered the first dose of the vaccine to priority groups 1-9. However, if you are in priority groups 1-9 and have not yet received an appointment for your first dose, please complete our Leave Nobody Behind form and you will be contacted for an appointment.
Those who are housebound in any of the groups will have their vaccine delivered by our Mobile Vaccination Team.
---
COVID-19 vaccinations for household contacts of immunosuppressed adults
We are now prioritising household contacts of adults who are immunosuppressed for vaccination.
COVID-19 vaccinations for household contacts of immunosuppressed adults.
---
Current Appointments
We have now auto scheduled the following age groups
Age 40-49
Age 30-39
Aged 18-29 into a Mass Vaccination Centres that offers Pfizer
If you are in these age groups you will receive an appointment in the post and a text message to invite you for an appointment at one of our Mass Vaccination Centres. We are finding that we do not have up to date details for some people if their information is not up to date with their GP. If this is the case we advise that you complete our Reserve Form. By doing so you will be invited for an appointment as they become available.
---
Cancellations
If you are unable to attend your appointment, please complete our reschedule form or call us on 02921 841234 to cancel so we can offer the slot to someone else. We have updated our telephone system to help manage the demand on the service.
---
Western Vale
If you are aged 30-49 and live in Western Vale of Glamorgan and are registered with Cowbridge & Vale Practice, Llantwit Major and Coastal Vale Medical Practice or Western Vale Family Practice you will be contacted directly by them to attend the new Local Vaccination Centre at the CF61 centre.
We currently have four Mass Vaccination Centres, in Splott, Pentwyn, Bayside (formally 'Toys R Us') and Holm View Leisure Centre in Barry.
For further information and FAQs on the delivery, eligibility and safety of the vaccine, please visit: About the vaccine - Public Health Wales (nhs.wales)
---
Pfizer
Everyone who has had the first dose of Pfizer will now receive their second dose at 11 weeks which is in line with the MHRA guidance and the vaccination will be effective.
Pfizer is being delivered at our Mass Vaccination Centre in Bayside, Splott and Pentwyn.
---
Oxford AstraZeneca
Oxford AstraZeneca has been delivered by our GP Practices since December and our Mass Vaccination Centres in Bayside and Barry.
Second doses of Oxford AstraZeneca currently remain at 11 weeks and you will receive an appointment automatically which could be up to five days before your appointment date. If you do not hear by 11 weeks please call us on 02921 841234 or your GP Practice if that is where you received your first dose.
Guidance on the AstraZeneca vaccine can be found here.