Celebrating the Official Opening of the Wellbeing Hub at Maelfa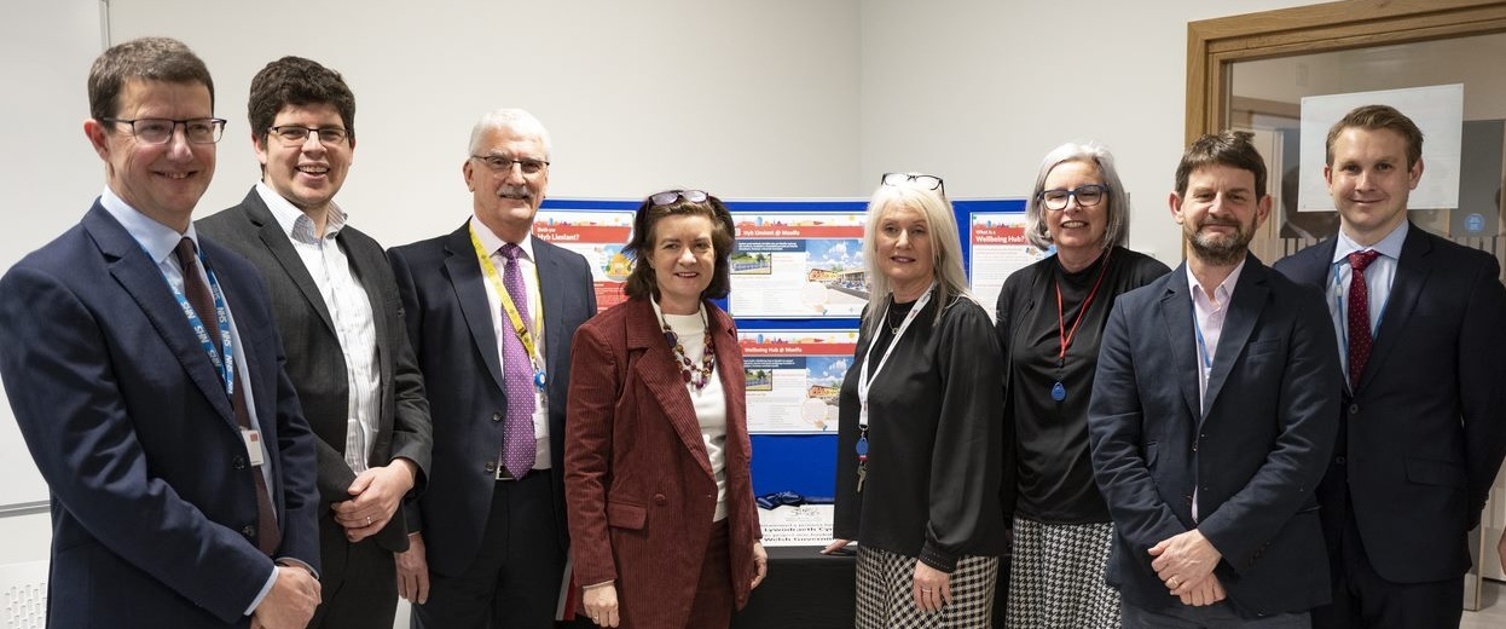 3rd February 2023
The Wellbeing Hub at Maelfa, an integrated, community focused health and wellbeing facility, was officially opened by the Minister for Health and Social Services, Eluned Morgan on Thursday, February 2nd 2023.
Opened alongside Charles 'Jan' Janczewski, Chair of Cardiff and Vale University Health Board, Dr Roger Morris, Senior GP Partner at Llan Healthcare and Councillor Huw Thomas, the Wellbeing Hub is part of a £14 million investment from Welsh Government, as part of a new generation of integrated health and social services.
The Wellbeing Hub at Maelfa has been developed in partnership with the Health Board, Cardiff Council, Llan Healthcare and other key local stakeholders, including Cardiff Third Sector Council, Community Health Council, South Wales Police and local community groups to foster co-production, volunteering and social movements for health and to provide preventative, community, primary and secondary care. Integration with other local services provides the community with access to high-quality patient care and helps to improve the health and wellbeing of the population of Cardiff East.
Jan Janczewski, Chair at Cardiff and Vale University Health Board, said: "As the first Wellbeing Hub to be fully developed and operational in Cardiff and the Vale of Glamorgan, the work undertaken on this project and the results shown epitomises partnership working and collaboration between key stakeholders and drives forward our aims of delivering a modernised service delivery for our patients in the community."
Health and Social Services Minister, Eluned Morgan, said: "I am delighted to open this new development at Maelfa, which has received £14m of funding through our NHS Capital programme. It is a fantastic example of partnership working at its finest.
"Integrated Health and Social Care hubs such as this will be rooted in communities, and will provide people with easy access to a wider range of health, care, and wellbeing services closer to where they live. This will play an important role in helping to build the community capacity we need to help people live well at home, and prevent them needing to be admitted to hospital. The hubs will also support people to return swiftly home when they have been admitted."
The new Wellbeing Hub has been built into Cardiff Council's existing Powerhouse Community Hub. By being physically connected and sharing the space, it provides health and community services and a multi-functional service for patients, staff and the local community. By working on the community level, the Wellbeing Hub at Maelfa is the first in an upcoming series of hubs that ensure a person's chance of leading a healthy life is the same wherever they live and whoever they are.
Leader of Cardiff Council, Councillor Huw Thomas, added "The Council's multi-million-pound investment in Maelfa reflects our ambition to help regenerate local communities like Llanedeyrn into attractive, safe and welcoming areas to live and work. Developments such as the new shopping parade, new homes, refurbishment of the tower block and start on site of a much-needed older persons community living scheme all complement the new Health and Wellbeing Hub.
"We're committed to the integration and modernisation of health and community services and shared use of public sector assets and this new facility is an excellent example of how we can work together to deliver on this commitment."
Senior GP Partner at Llan Healthcare, Dr Roger Morris, said "The Wellbeing Hub at Maelfa provides a wonderful space and it is a pleasure to come to work each day. I would like to take this opportunity to thank the staff, Welsh Government, the Health Board and the Council for making this possible and we look forward to building even closer relationships with our partners in the local community."
The Wellbeing Hub at Maelfa is the first to be developed as part of a strategic programme that places community at the centre. Our dedication to patient, carer and community experiences will be amplified by working with our partners across the NHS, social care and third sectors and are confident the Wellbeing Hubs will support our citizens to live longer, healthier and better-quality lives.