Celebrating staff achievements in our Clinical Diagnostics and Therapeutics Clinical Board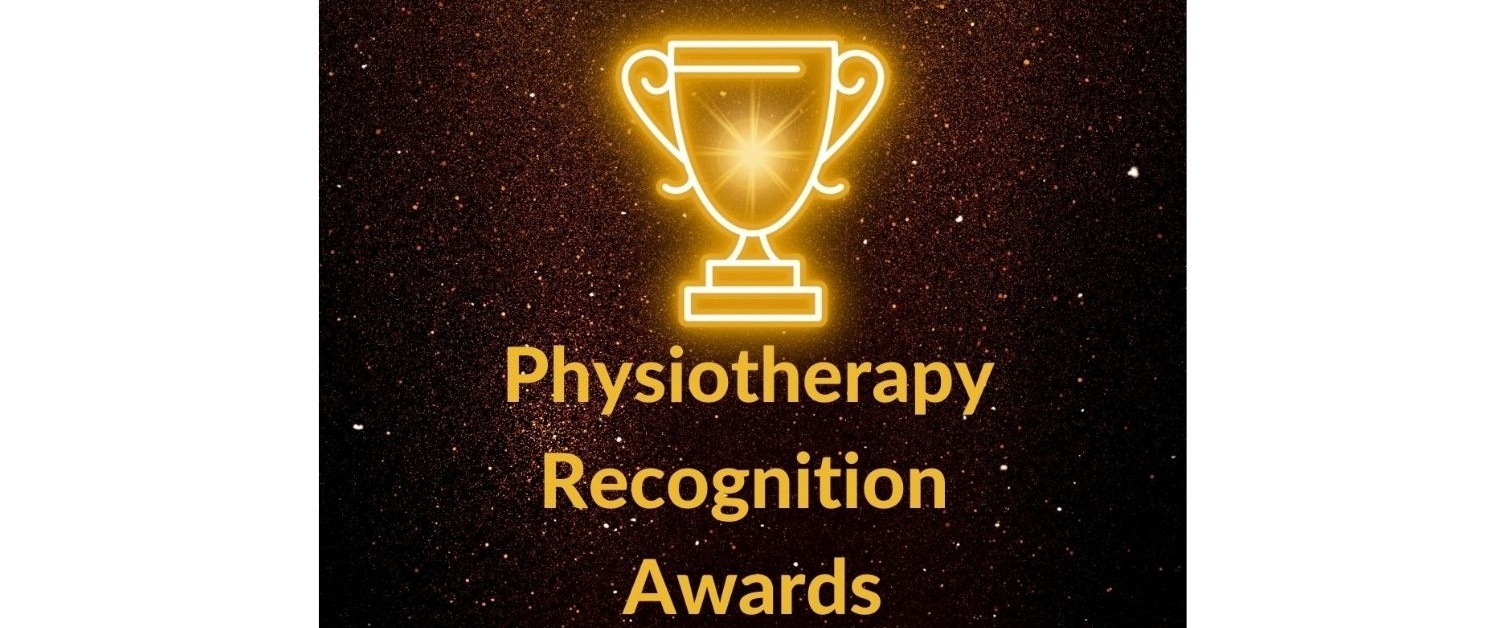 11 May 2022
A physio recognition event was held for the first time since the COVID-19 pandemic, on 25 April to celebrate Cardiff and Vale University Health Board's clinical staff for their hard work and dedicated service throughout the trying times the last 12-18 months has brought.
The hybrid event, supported by Cardiff and Vale UHB's Health Charity, consisted of a range of presentations and posters highlighting staff achievements, and awards were handed out by Clinical Director of Allied Health Professions Emma Cooke, to 10 worthy winners.
Emma said: "I wish to extend a heartfelt thank you to all of our clinical staff for their commitment to our Health Board, particularly during the extremely difficult times that the pandemic has brought to healthcare. Without their efforts and care we would not have been able to carry out the important work we do to care for Cardiff and Vale communities and patients.
"A sincere congratulations to all of our winners and runners up, you are all, individually, truly worthy of these awards."
Here are our winners and runners up for the ten award categories presented at the event:
All around amazing
Winner: Jill Davies
Jill has been a brilliant and dedicated Neuro Physiotherapist and a great advocate for all patients with neurological conditions. She has been forward thinking in setting up patient centred resources and activities within the neuromuscular service, greatly benefitting this group of patients. She has worked with such passion in her management of patients and has been commended by multiple patients and families on her skills and hard work.
Jill's colleagues describer her as naturally warm, friendly, a joy to be around and all around amazing! They have all thoroughly enjoyed working alongside her and will miss seeing her in work following her recent retirement after 27.5 years in the Health Board.
Runner-ups: Steve Prance, Laura Perry, The Escape Pain Team, Nancy Maisey, Helen Williams, James Hinder, Emma Perkins
Hidden hero
Winner: Rob Jones
Rob has been recognised for his excellent work driving the ESCAPE pain programmes in Cardiff and Vale UHB. Rob has worked tirelessly on promoting the programme, including supporting service users to access online and in person during the pandemic, and coordinating supervision sessions and training for staff.
His colleagues describe him as passionate with an incredible work ethic, and emphasises that patient testimonies are evidence of the fantastic work he has started for the Health Board service users.
Runner-ups: Alison Atkins, James Atter, Pete Deness, Rob Skellett
Leadership
Winner: Kate Jones
Kate has been an inspiration to her team, who describe her as an enthusiastic, knowledgeable and inclusive leader. Kate installs confidence in her colleagues and is an advocate for development opportunities for her team across Adults and Paediatrics. Despite extreme pressures Kate leads by example, listening to all members across all grades and professions, remaining positive and proactive throughout.
Runner-ups: Jackie Sharp, Sarah Wolujewicz, Natalie Robertson, Vanessa Howells, Nadia Hodge
Living our values
Winner: Amaani McGee
Amaani's colleagues describe her as the embodiment of a valued staff member within Cardiff and Vale UHB, claiming that she lives and breathes the Health Board's values and behaviours. Amaani is hard working and always goes the extra mile for patients, willing to help and support wherever is needed.
Runner-ups: Monica Reading, Rob Jones, George Scott, Zoe Oram Jones, Physio Central Admin Team, Rhian Harrington, Jo Sweeney
Rising to the Covid challenge
Winner: Caroline James
Caroline returned to work during the pandemic, and was instrumental in developing the Keeping Me Well website for the Health Board. Caroline used her developed skills in web designing along with her experience and knowledge of physiotherapy to build website content and develop pages to support service users during times where access to physiotherapy service users were limited.
Caroline also worked with the Prepare Well Orthopaedic Team to help support and optimise patients waiting for Orthopaedic surgery. She had helped the development and running of a new project focussing on physical activity education and exercise components.
Runner ups: Kelly Miller, Sian Griffiths, Toby Flemming, Alison Atkins, Sam Owen, Owain Stacey, The Minor Injuries Team
Quality and safety
Winner: Rob Goldsmith
Rob has dedicated significant time and effort to Musculoskeletal (MSK) digital, a recourse that provides support to clinical teams, using digital tools that support the delivery of patient pathways. He has brought together recourses and facilities for clinical staff within one central location through a new share point system. Rob has put in amazing work to build a sustainable structure with appropriate governance and ownership that should avoid pitfalls.
Runner ups: Dave Price Smith, Rhian Jenkins
Research and development
Winner: Rhian Jenkins, The ARPP Team
Along with her team, Rhian has developed one of the most significant quality improvements across spinal pathway that has been seen. The team has worked tirelessly to implement evidence-based medicine to benefit the most vulnerable patient groups.
This growing development was is a significant transformation that has been commended and shortlisted for the NHS Wales awards.
Runner ups: Robert Jones, Keeping Me Well, Persistent Pain VGC Team, Prepare Well Ortho Team,
Support worker of the year
Winner: Julie Eedy
Julie was nominated by colleagues due to her professional manner. During the pandemic Julie demonstrated her ability to be flexible and adapt to new surroundings in new departments across the Health Board.
Julie's colleagues praise her on her hard work and helpful support that she has provided to the physiotherapy services.
Runner ups: Pete Deness, Luke Cumming
Physiotherapist of the year
Winner: Kamila Kowalczyk
During the pandemic Kamila showed great professionalism in being placed outside her comfort zone from being re-deployed several times. Despite the challenges that the pandemic has brought, including difficult times being away from her family, Kamila was always a reliable and happy colleague who put patients first.
Kamila's colleagues describe her as hard working and an asset to any team, emphasising her support to colleagues and wider teams.
Runner ups: Robert Jones, Kate Thompson, Megan Lewis
Manager's choice
Winner: Emma Cooke
Emma was awarded for her inspirational leadership and support to colleagues during the challenging times the pandemic has brought. She has positively impacted the physiotherapy service as Clinical Director, facilitating many beneficial changes to the service, and she continues to influence and make a difference in the delivering of patient centred care.
Emma's colleagues state that she has given the service confidence to develop and showcase the skills and talents within it, giving many staff the opportunity to develop and flourish over the last few years.