CAV 24/7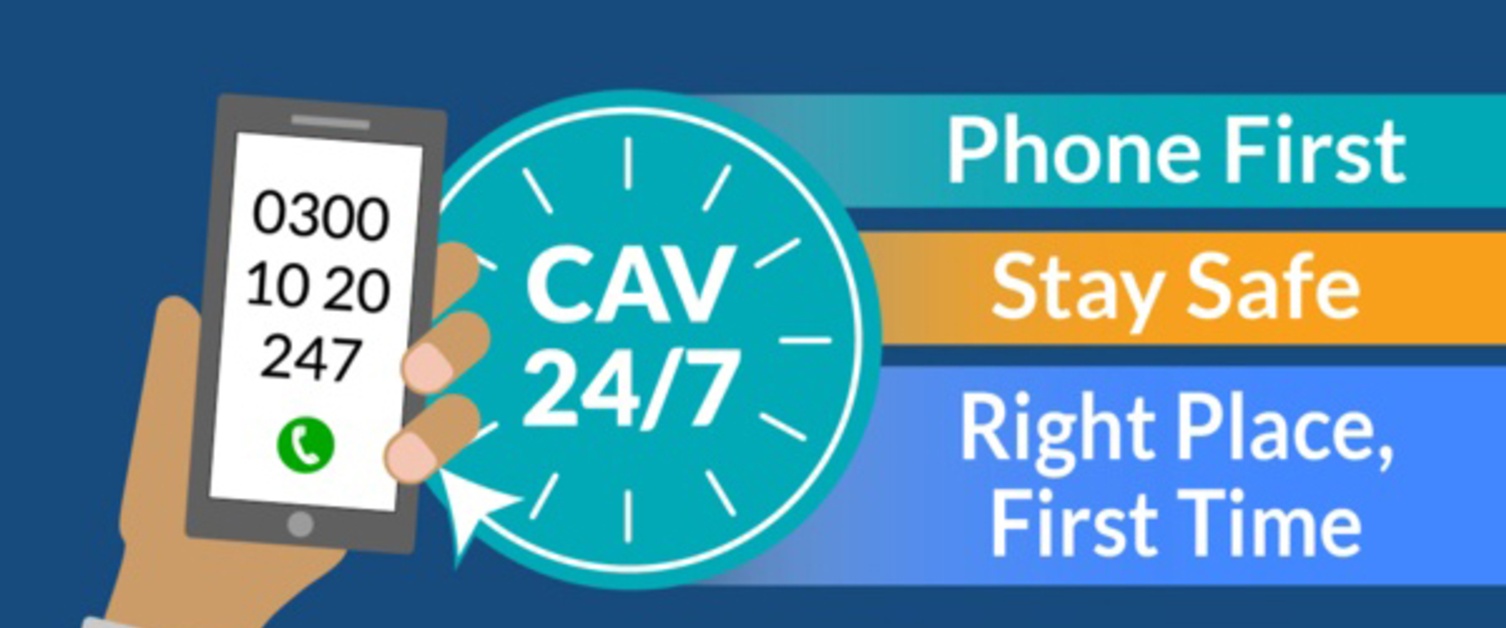 The way you access the Emergency Unit has changed
CAV 24/7 is a new and innovative approach to how patients access urgent care within the Cardiff and Vale University Health Board
Traditionally, patients have been able to access the emergency department by walking into their local Emergency Unit (EU) or A&E. The 'phone first' system replaces this for non- emergencies with patients being encouraged to phone ahead and, if required, they will get a booked timeslot - saving precious time.
How does it work?
If you think you need to visit the Emergency Unit – but it's not life or limb threatening – then you must phone first. Call CAV 24/7 on 0300 10 20 247.
Calls are taken by a call handler who takes the caller's details; if it is a life or limb-threatening emergency the call handler will escalate the call to 999. If it is not an emergency, the call handler will log the call in the system for a suitable clinician to call the patient back. The service aims for a clinician to ring back within 20 minutes if it is classed as urgent, or within an hour if it is deemed less urgent. The caller will then be referred to the most appropriate service, in the right place, first time. If that is the Emergency Unit (EU) or the Minor Injuries Unit (MIU), the caller will be given a timeslot to attend.
What is a timeslot?
A timeslot is NOT an appointment. Timeslots are given in 30 minute intervals.So for example, you may be given a timeslot to attend our Emergency Unit of 10am-10.30am, this does not mean you will be seen at exactly 10am for 30 minutes, it means you'll be seen in between the times although this could be longer if the Unit is busy. Watch our short animation for more information:
Why introduce CAV24/7?
During the Coronavirus global pandemic, Health Boards had no choice but to review the way in which they were providing services. As a result of the pandemic, we have seen a number of innovative digital solutions being used to enable patients to receive a consultation remotely. The vast majority have resulted in more convenience for the service user.
The success of these new ways of working together with the absolute requirement to keep people safe through social distancing , has led to GPs and hospital clinicians across Cardiff and Vale University Health Board setting up the phone first model 'CAV 24/7'. Essentially, this is a round the clock service where doctors and nurses will assess your needs and direct you to a service which best meets them, all while you wait at home.
Read our frequently asked questions (FAQs) page to find out more.
If you are a patient across Cardiff and Vale University Health Board, we are promoting three main ways in which you can directly access healthcare. This does not replace access for those patients given direct access numbers as they are already in the health system and receiving treatment or advice such as community services but relates to new health issues that need to be explored.
Contact your local GP
Urgent issues or Out of Hours - "Phone First" – call CAV 24/7 on 0300 10 20 247
If it's an emergency, dial 999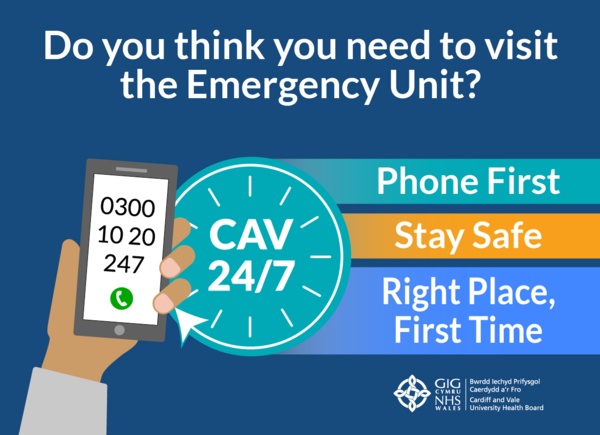 Share your views on CAV24/7
The Community Health Council is running a survey and wants to hear your views on the CAV 24/7 system. For more information on how to complete the survey, click this link.
---
Urgent Primary Care
Read our frequently asked questions (FAQs) page to find out more.
Help us to spread the word