School Nursing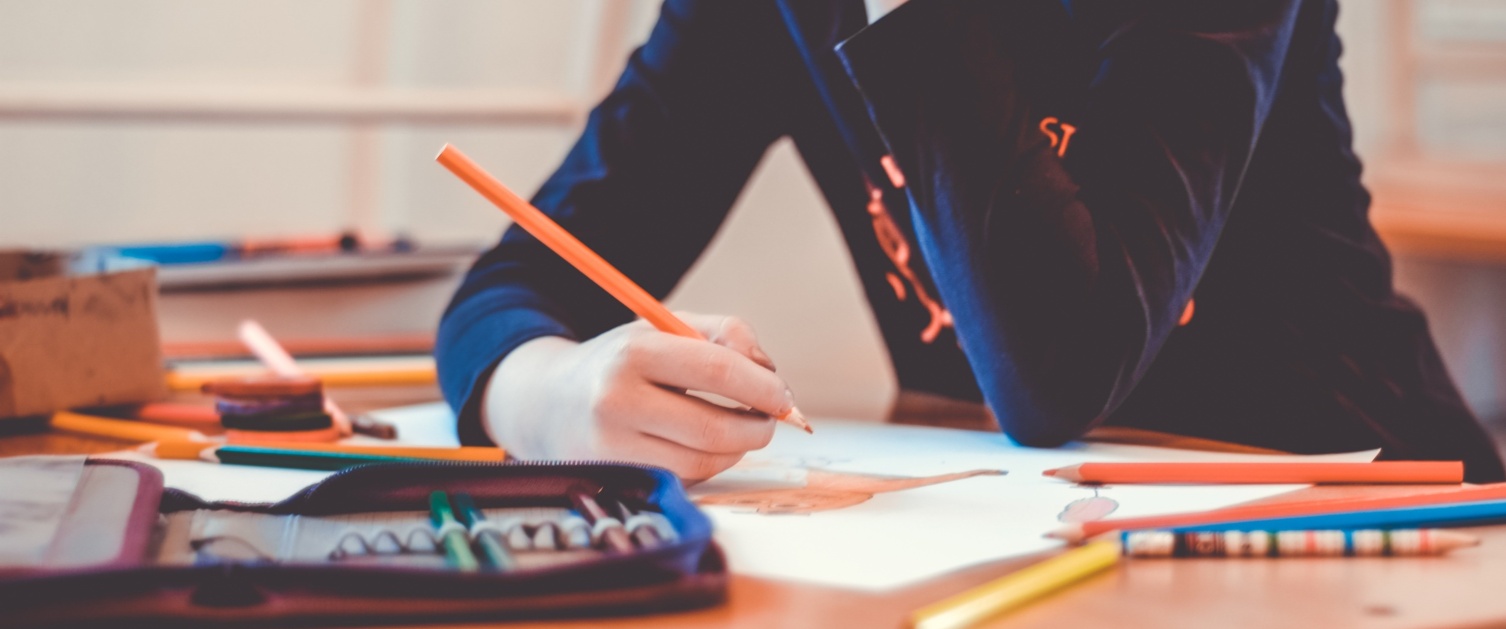 About Us
School Nurses are qualified, experienced Specialist Community Public Health Nurses. Every school aged child has a named School Nurse and associated health team with a variety of skills. School Nursing teams are based in the community and may be the first point of contact when families or young people need advice and support about physical and/or emotional health issues. Our role is to provide health information, promote healthy lifestyles and to help manage existing health concerns, helping children and young people reach their full potential.
The Cardiff and Vale School Nursing Service is delivered via a rights based approach that meets the UNCRC (1989) and aims to maximise children and young people's resilience, empowering them to make informed choices through a service that is needs led, responsive, visible, accessible and confidential. Our service is proactive in providing early intervention and advice when it is needed and is trusted and valued by children and young people.
School nurses are available to provide support to all school aged children and young people, including those who are home-schooled or educated outside of a formal school environment. School nurses can meet with children and young people in school or in the community – wherever they feel most comfortable.
School nurses will provide and coordinate health intervention and public health programmes on a range of issues, including:
Physical health (education on obesity, smoking, alcohol and drug related harm)
We offer advice and support to families, children and young people and signpost or refer to other services if needed. We also carry out health promotion sessions on a range of topics when specific health needs are identified.
Promotion of emotional wellbeing and supporting the mental health needs of school age children
The role of the School Nurse is pivotal in supporting the emotional wellbeing of children and young people. We provide weekly drop in clinics in the high school settings. Young people can access the School Nurse for confidential health and wellbeing support and advice. However, if a young person can not attend an education setting, they can access the School Nursing service through Chat Health or through face to face contact in the community.
Young people can also access the Condom card (c-card) scheme from their School Nurse.
Chat health
Young people aged 11-19 can access the School Nursing service via text for confidential, anonymous health advice and support.




Text: 07520 615718
Monday - Friday 8:30 am - 4:30 pm (except bank holidays)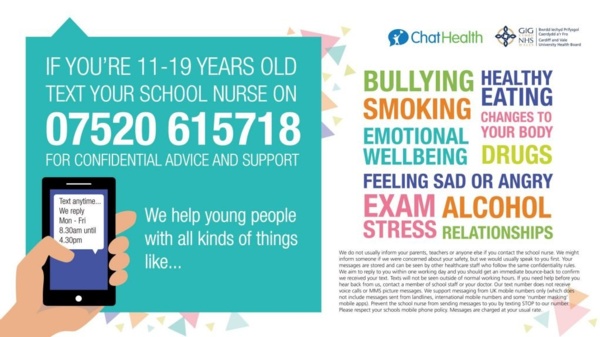 Delivery of the national screening, surveillance and immunisation programmes in the school setting
We deliver School Entry Health Review (SEHR) for reception aged children that includes height weight, vision and hearing screening. We also gather data that contributes to the Welsh Government Childhood measurement programme.
We provide seasonal influenza and HPV vaccinations
Influenza:
All children of primary school age are eligible and should have an influenza vaccination every year. The School nursing service has been offering the vaccination for some years now as part of the national flu programme. The vaccine is recommended to help protect children against flu. Flu can be unpleasant and can sometimes cause serious complications. Vaccinating your child will also help protect vulnerable families and friends as it helps prevent flu from spreading.
For more information contact your School Nurse, visit NHS Direct at www.nhsdirect.wales.nhs.uk or contact NHS Direct on 08454647.
HPV:
The HPV vaccine has been offered to all girls in school year 8 for over 10 years. From September 2019 the vaccine will now be offered to everyone in school year 8.
The HPV vaccination helps protect young people from being infected by the Human Papillomavirus (HPV). This virus increases the risk of developing some cancers later in life, such as cervical cancer, some mouth and throat cancers, and some cancers of the anus and genital areas. The HPV vaccine does not protect against other sexually transmitted diseases. For more information contact your School Nurse.
For safety review on HPV Vaccines visit www.who.int/vaccine_safety/committee/topics/hpv/june_2017/E
Contact your GP to see if your immunisation status is up to date.
For more information on immunisation visit - Immunisation

Education and training
We provide cascade anaphylaxis training to school staff and provide guidance and support to school staff for children with additional health needs.

---
Contact us
Senior Nurse: Sandra Dredge
Operational Manager: Katherine Lyons
Vale School Nursing Team:
School Nurse Team Leader
Rebecca Stringer
01446 704114
Cardiff West School Nursing Team :
School Nurse / Immunisation Team Leader
Catherine Cawte
02920907675
Cardiff East School Nursing Team:
Team Leader
Carol Rogers
02920734161

---