F2SU - I have a concern what shall I do?
We should all raise concerns when we believe that patient safety or care is being compromised by the practice of colleagues or other workers or the UHB systems, policies and procedures in.
You may be reluctant to report a concern for a number of reasons. For example, because you fear that nothing will be done or that raising your concern may cause problems for colleagues; have a negative effect on working relationships; have a negative effect on your career; or result in a complaint about you but we want to hear what you have to say so please do speak up.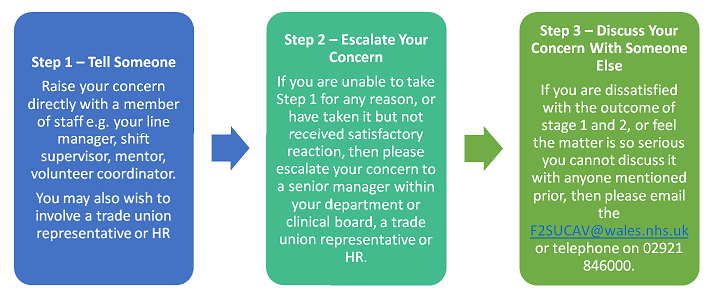 Emailing the F2SU Team - If you wish to raise a concern with the F2SU Team you can do so by sending them the F2SU Raising Concerns Form to F2SUCAV@wales.nhs.uk.
Some things to remember when raising a concern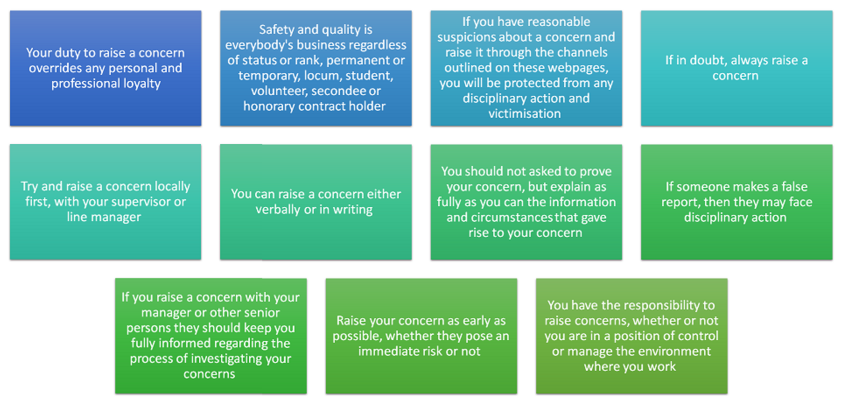 Protection for people who raise concerns
Harassment or victimisation of anyone raising a genuine concern will not be tolerated in Cardiff and Vale University Health Board.
Any information provided will be treated confidentially. If you ask at the outset for your identity to be kept in confidence then we will do our utmost to respect this and will not disclose your identity without your consent unless required to do so by law.
However, we hope that you will understand that the organisation is obliged to address any allegations of malpractice/ wrongdoing when it becomes aware of them. If a situation arises where the organisation is not able to resolve the concern without revealing a member of workforce's identity it will be discussed with them prior to any disclosure.
If you choose to raise a concern anonymously, it will be much more difficult for the us to investigate the matter, to protect your position under the Public Interest Disclosure Act (see below) or give feedback. Additionally, being anonymous does not prevent others from successfully guessing who raised the concern and it can lead people to focus unduly on who raised it. Accordingly, although anonymous reports will be considered, we encourage those raising concerns to put their name to any concerns they wish to raise.
The Public Interest Disclosure Act (1998) (PIDA) was introduced to provide protection for those who raise genuine concerns about wrongdoing or malpractice in the workplace, providing they do so in good faith, are acting in the public interest and not for personal gain. This is often known as 'whistleblowing'.
The act has a tiered approach to disclosures which most easily gives workers protection for raising a concern internally. Protection is also available for disclosures to regulatory bodies, and in exceptional circumstances, wider disclosures (for example to an MP/AM) may also be protected. However, before following these routes, we strongly recommend that you seek advice from within the health board, a trade union or Public Concern at Work. We encourage you to speak initially to your line manager, or to contact the Freedom to Speak Up Helpline.