Patient Menus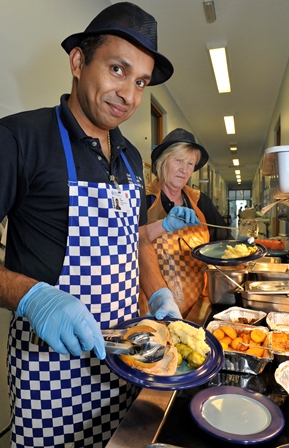 We have introduced new inpatient menus to provide an increased variety of meals, along with some new recipes and well-known favourites.
Three different menus have been developed: a main hospital menu, and special menus for the Children's Hospital and Women's Unit.
You can see the wide choice available on these menus via the links below.
We are also launching a separate A La Carte menu that will provide increased choices for patients with very specialist diets, including Halal and Kosher-suitable meals, gluten-free and allergen-free meals, as well as an increased choice of vegetarian and vegan meals. Please inform your ward staff regarding any food allergies and intolrances or special diets, so that can be catered for you more appropriately.

Funding of highly coloured crockery for use with the menus has been provided by the Cardiff and Vale Health Charity.
All areas across the Health Board has new blue two tone crockery. The Children's Hospital has blue and yellow crockery.
The coloured crockery will enable an improved eating experience for all our patients, and positively supports the Health Board's commitment to improving the nutrition and hydration of its patients.