Information for members of the public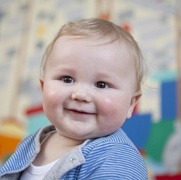 Immunisations: Are you up-to-date?
Cardiff and Vale University Health Board is encouraging everyone to check whether they and their family are up-to-date with the vaccines they need. By making sure that you and your family are up-to-date with the vaccines you need, you give yourselves the best chance of a healthy future.
Immunise for a healthy future: Know, Check, Protect
Know
Why you need to get vaccinated - the World Health Organisation states that immunisation prevents between 2 and 3 million deaths every year. Due to vaccinations, we no longer see smallpox, and polio has almost been eradicated. No other medical intervention has done more to save lives and improve quality of life. Not vaccinating yourself or your family puts them at risk of catching a range of potentially serious, even fatal, diseases.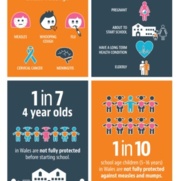 Which vaccines you need, where and when you should get vaccinated -Immunisation protects against an increasing number of diseases, from infancy to old age. Follow the link for your full vaccination schedule or visit your GP or Practice Nurse.
The autumn and winter months are when people in at-risk groups should get their free flu jab. At-risk groups include people with long-term conditions, pregnant women, people over 65, carers and younger children. Find out more about the flu jab and where you can get it.
Where you can go to find out more - to find out more about vaccinations visit the Public Health Wales Immunisation Pages.
Check
Whether you and your family have had all the vaccines you need - if you're not sure whether you or your family have had all your routine vaccinations, ask your GP or practice nurse to find out for you. It is usually possible to "catch up" later in life.
When you need booster doses - it is important to remember to get booster doses for some vaccinations to ensure that you and your family are fully protected. For the booster vaccination schedule visit NHS Direct Wales or visit you GP or Practice Nurse.
Whether you need any vaccines before travelling - for information on travel vaccination check the NHS travel vaccinations website.
Protect
Yourself and your family: get vaccinated - follow the link if you are still unsure about the benefits or are still have concerns about vaccinations, alternatively visit your local Pharmacist, GP or Practice Nurse.
Immunisation for all
To help remove barriers to immunisation, we have developed a handy postcard resource with information for parents about all the immunisations children need between the ages of 0 and 11 years in the following languages: