Promoting Dignity and Respect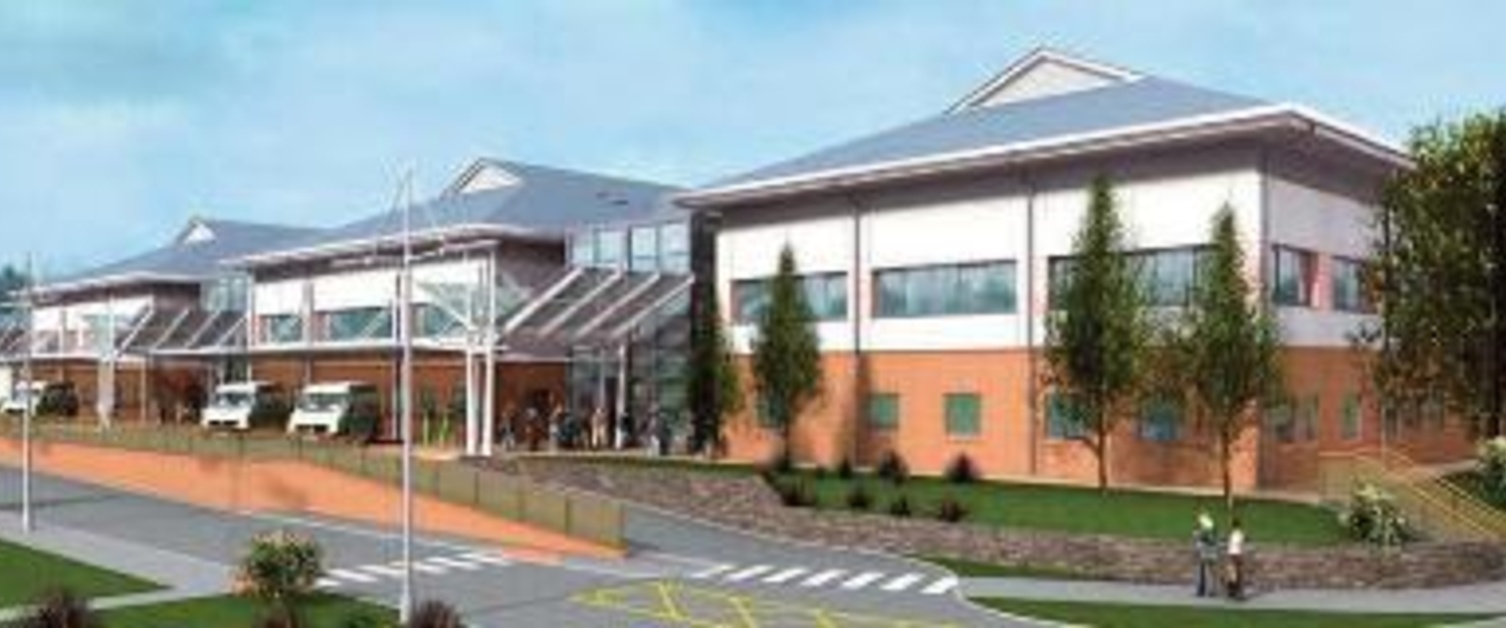 Within the Mental Health Clinical Board, promoting dignity and respect is fundamental.
University Hospital Llandough
The state of the art facilities at Llandough Hospital (UHL) were developed using best practice from across the UK, with particular focus on improving privacy, dignity and respect for all.
The facility / building is divided into two floors. The ground floor houses the Rehabilitation Day Hospital, the Mental Health Services for Older People Assessment and Recovery Unit and the main Outpatients Department for the UHL site.
On the first floor there are 5 Inpatient Wards for Mental Health Services for Older People.
The aim of the building is to provide a calm and therapeutic environment. As such it has been designed to feel less institutionalised and with more ability to personalise space and environments.
The close working relationship between planning officers, clinical staff and carers ensured that innovations were included to promote dignity and privacy.
The unit has a large number of Induction Loops. Each loop provides privacy for those using the system, and they are included at all reception desks, sitting rooms, dining rooms, quiet rooms and meeting rooms.
Blackboards to inform all of menu choices.
Nurse call to summons assistance throughout the unit.
Movement sensors, under floor heating and a single flooring product all to reduce falls and promote independence.
Single and double rooms, many with en suites to promote privacy, and large assistance bathrooms. These bathrooms include large baths with hoists that have iPod integral to the system to play music and change water colour to promote bathing as a pleasurable experience. There are dignity curtains in all bathrooms and double bedrooms.
Included within the unit are three enclosed gardens that enable patients to enjoy outside space within a safe environment and also aid in recovery.
Therapy Garden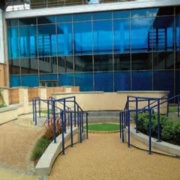 The Therapy Garden designed by staff from the rehabilitation day hospital is a great example of this.
Barbara Clarke, Senior Physiotherapist commented that, "following input by frontline staff into the design process, the Therapy Garden provides an excellent and innovative assessment and treatment facility for frail, older patients, particularly those with a history of recurrent falls and loss of confidence in outdoor walking. It offers a variety of outdoor challenges and includes a wide variety of surfaces, such as gravel, grass, steps of different height and slopes of varying gradient. The availability of this facility will be a great asset to our rehabilitation service"
It is acknowledged that the arts and good design has a significant role to play in delivering high quality healthcare environments which promote dignity and respect, and these principles were central to the unit's development.
Art and Health
Research has shown that the integration of artworks in healthcare environments can improve people's access and experience of healthcare services and facilities in a number of ways,
including softening impersonal clinical buildings, promoting stimulation, promoting respect and reducing the anxiety of patients using them and improving recovery times The environments offer a number of innovations, including the following.
Sunroom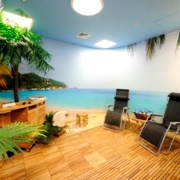 The Sunroom has developed a whole new concept ensuring all our patients' senses will be treated to an authentic "holiday experience".
We are confident that the installation has improved the quality of our patients' experience.
Patients have reported that it both stimulates memories from their past and provides a happy, nourishing and deeply relaxing influence in their daily lives.
We believe that this facility is the first in NHS Wales and will make Cardiff and Vale University Heath Board stand out in the UK care industry as a real innovator, and a provider which cares for and provides the best for their patients.
Reminiscence Pods
Reminiscence Pods can be seen to improve services as opposed to more traditional ways of providing opportunities for reminiscence.
The Pod provides a complete environment, with things to see, touch and interact with, which stimulates an individual's recall and offers the wider experience to more people who may have other cognitive impairments.
Often people with dementia find it difficult to express themselves. The Pod promotes conversation initiated by those with dementia, which helps give people a voice, leading to increased confidence, greater levels of communication and a sense of community not often experienced in such care settings.
Perhaps, most importantly, the Reminiscence Pod helps to increase the well being level of people with dementia. People can communicate about their lives, experience familiarity and safety at a time when often nothing makes sense and feel valued simply because they are being listened to.
Multi-Sensory Room
Multi-sensory therapy is a multi-disciplinary intervention designed as an adjunct in the management of a variety of conditions including dementia, anxiety and depression.
The multi- sensory environment is designed to promote stimulation or relaxation for the patient using a variety of different pieces of equipment. All of the senses are engaged through use of equipment such as bubble tubes, sound boards, projector images, music and fibre optics.
This is supported by a comprehensive assessment carried out by a member of the therapy team and promotes independence, choice and well-being for patients in a non-threatening environment.
Praise for the new facilities
In order to showcase the fantastic environment within the facility, open days were held 2012, providing a unique opportunity to showcase all the services. Over 2000 patients, relatives, staff and members of the public attended the open days, and hundreds of comments were received, including:
"This is a welcoming, positive place to contribute to patients' wellbeing."
"It's as all hospitals should be, a lovely nurturing environment, something to be proud of."
"An incredible facility, hugely impressive with great thought and attention put into every detail. A new standard of health care a fantastic environment"
Jane Hutt, Assembly Member commented: "Congratulations to everyone for working so hard to bring this about!
Wonderful National Health Service facilities offering first class facilities for dignity care and clinical excellence."