Becoming a Reservist
Being a reservist is a great way to progress in your career in health and obtain new skills.
By 2018, the Government is looking to increase the number of reservists across the army, navy and air force by 50% to 30,000.
More than 5,000 of these reservists will come from a wide variety of services, such as catering, logistics, nurses, doctors and physiotherapists.
What is a reservist?
There are around 30,000 volunteer reservists in the UK
They make up around 15 per cent of the nation's total defence capacity.
The Reserve Forces consist of civilians from a wide range of industries whose skills are used to great benefit within the Armed Forces
They take part in regular evening and weekend training, as well as a two-week annual camp training exercise, which could be at home or abroad.
They are likely to be mobilised at some point in their military career
Reservists gain specialist skills that they would not have had the opportunity to develop during their civilian career, often focusing on leadership and communication. This makes them an asset to any organisation that employs them in a civilian capacity
There are three armed forces websites where you can find out more about becoming a reservist.
Armed Forces Covenant
As a supporter of the Armed Forces and employer of numerous Reservists, Cardiff and the Vale University Health Board (CVUHB) are a signatory of the Armed Forces Covenant.
The Armed Forces Covenant is a voluntary pledge from the country's organisations and businesses who wish to demonstrate their concrete support for the Armed Forces community.
It includes a core statement of commitment that no member of the Armed Forces community should face disadvantage in the provision of public or commercial services compared to any other citizen and that in some circumstances, special treatment may be appropriate.
Armed Forces Day
Armed Forces Day is a chance to show your support and #SaluteOurForces for all they do.
The Reserve Forces' and Cadets' Association (RFCA) for Wales
RFCAs have been the centre point of activity and administration for the Reserves and Cadets of the Armed Forces for over 100 years.
They offer advice and assistance to the Ministry of Defence and all three services in a range of ways, including; the upkeep of nearly 200 unit locations, recruiting support, community engagement, awareness building and more.
They are a not-for-profit organisation and not part of the military chain of command.
Reserves Day
Reservists make up approximately 16% of the Armed Forces' personnel and are integral to protecting the nation's security at home and overseas.
The contribution they make to the Armed Forces often goes unrecognised. Therefore, an annual Reserves Day was created to highlight and recognise the valuable contribution Reservists make.
In 2020, Reserves Day is being celebrated on Wednesday 24 June. Reservists will wear their uniform in their civilian life to raise awareness and there are numerous ways organisations can show their support, too.
Meet our Reservists
Cardiff and Vale University Health Board has many Reservists such as Paddy Keogh.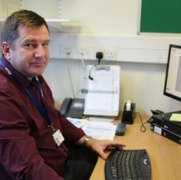 Paddy is an IT Systems Administrator in the Maternity Unit at the University Hospital of Wales, and his primary role is to look after the IT systems for maternity. In his day job, he is working on a project installing a computerised system to replace the paper notes that are currently used.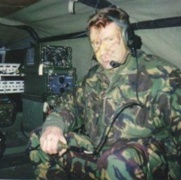 As a Reservist, Paddy is a Warrant Officer and a Troop Commander for the Royal Signals Unit, 53 (Wales and Western) Signal Squadron, the only Welsh Signal Squadron in the UK. He has served in Northern Ireland and Bosnia, each tour being 12 months in duration.
Paddy said: "The primary role of the 53 Signal Squadron is providing cutting edge information and communication systems to the Armed Forces, Emergency Services and other Government Departments.
"We've helped out with the Olympics, during the NATO summit, when there has been inclement weather such as floods, and any time there is a national emergency the unit will step in to provide communications.
"I love being a Reservist. The Army helps to pay for qualifications which give you knowledge in the field as well as giving you experience to bring back to your day job. I have been in the Army since I was 16 years old so I've served for 31 years in total.
"There are so many memorable moments, both happy and sad.
"Being part of tours has been amazing, the team spirit and camaraderie is something else, but along with the good times come sad times. I lost a close friend in Afghanistan to gunfire; this will always stay with me and brings home the realism of being part of the Army."
Veterans' Support