Low Secure Services
Cardiff and Vale UHB Low Secure Service is a specialist and dedicated service for people who suffer from serious mental disorder. The Low Secure Service consists of an inpatient service and a Forensic Community Mental Health Team.
Who is this service for?
This service is specifically designed to meet the needs of service users who have committed a serious crime or are at risk of harm to others.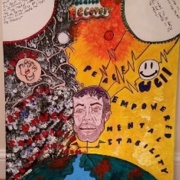 We admit service users from medium secure hospitals, local psychiatric hospitals, prisons and the courts.
Our Low Secure Team has an ethos of recovery and empowerment. Our service users have created this art work to describe their experience of being in secure services.
The service users involved used this opportunity to work as a team, communicate positively and share a message of equal voice and recovery.
Get access to this service
Referrals to Low Secure Services come from psychiatrists in Mental Health, courts, Criminal Prosecution Service, prison and probation services.
For more detailed information on how to access our services, please see our referral information page.
Contact the Service