Enfys

Journey of the service
The service, then known as the Developmental Trauma Service, was established in August 2016 and was just a part-time Clinical Psychologist who then became full time in August 2017. The service has always offered support to both Cardiff and the Vale of Glamorgan. The service was originally commissioned from money in the Health Board and recent investment from Vale Social Services, Cardiff Social Services, the Health Board and Education has allowed the expansion of the service to where it is today. In May 2020 we re-launched as Enfys, which means rainbow in Welsh, and was suggested as a name by one of the young people that we are working with.
Pyramid Model
Enfys has a pyramid model which explains how we offer support. There are over 1300 children who are looked after in Cardiff & the Vale. View our Children Looked After section here.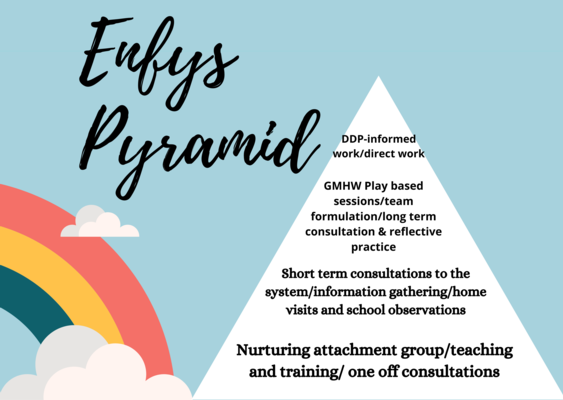 To meet demand, we provide a predominantly consultation-based model of service delivery. Most of the support we offer is to foster carers and social workers to help them to understand the child and respond to their needs in a therapeutic way. We believe that the best way to help a child is to help the system around them; what children who have experienced developmental trauma need most is to develop trusting and secure relationships with adults. Once a family has had support at one level, they can move up to the next level if they feel as though they need more intensive support. For many, have a one off consultation or attending our group is enough for them to feel able to continue to look after their child without any further support at that time.
The first level of support is by attending our Nurturing Attachment group. We also offer adapted forms of this group for school training sessions. We offer consultation slots for one off initial consultations to social workers and healthcare professionals.
The next level of support is offering more consultation sessions to foster carers or social workers following the initial consultation. We also offer one off home visits or school observations in order to better understand the child and to help us formulate, with the system around the child, about what is going on for them.
At the next level we offer team formulation to help the system around the child better understand what is going on for them at that time. We also offer longer term pieces of consultation work as well as reflective practice sessions. At this level, graduate mental health workers can offer play based sessions where they work directly with the child.
The final level involves DDP-informed therapy with the child and their foster/kinship carer. This involves the child and at least one significant other having therapy together to improve communication and trust.
The number of families we work with at each level decreases as you go up the pyramid. We want as many foster carers, social workers, teachers, or anybody else involved in a child's care, to complete the nurturing attachment group. Currently, we are only able to offer DDP informed therapy to a small number of children and their foster carers.
Who we are
Enfys, previously known as the Developmental Trauma Service, is an NHS-based service within Child Psychology and sits within Community Child Health alongside CAMHS. Our team is comprised of clinical psychologists, graduate mental health workers, trainee clinical psychologists, an occupational therapist and an administrator. Some are full-time whilst others are part-time, ranging between one to five days a week.
Our Values
The values of our team are to be trauma-informed and to offer relationally-focused interventions. We see relationships and connection at the heart of everything. Rather than diagnoses, we focus on understanding difficulties and making sense of them in the context of the events in their life. We believe that the behaviours displayed that can feel challenging, are survival strategies and ways that children have learnt to get their needs met. We believe that self-care is vital, and that we cannot care for others if we are not caring for ourselves. Within the team we try to practice what we preach by employing our own self-care strategies and noticing our own emotional and physiological responses to continually hearing trauma.