The Gym
What can we offer you?
Provide you with a graded introduction in how to become more Physically active, also offer him continued active lifestyle support. We can offer virtual sessions, if getting to us is a challenge. We always encourage the involvement of your friends or family in your sessions.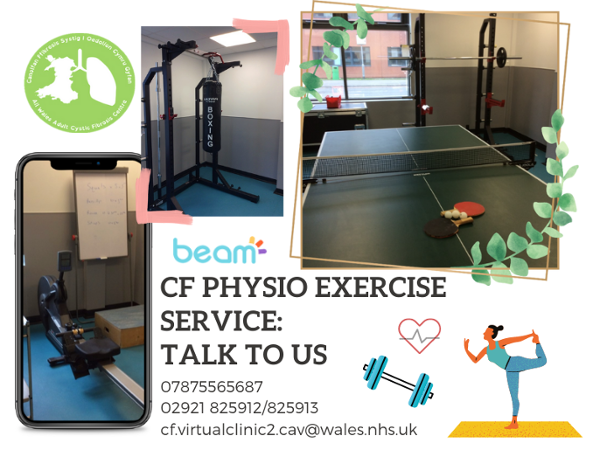 How would we help you achieve this?
Personal programmes and training plans
Practical exercise education, coaching and goal setting
Motivational coaching
Monitoring, testing & assessment of your physical ability
Where can you exercise at the centre?
At the 2 mini-gyms, ward bedrooms and around the hospital grounds & locality.
What equipment do you have for you to us here at the CF centre?
At a glance; Treadmills, Bikes, Cross-trainers, Rowers, Steppers, Stability-balls, Balance-boards, Table-tennis, Free weights, Resistance-bands, a Multi-gym-stack-system, and much more!
How can we help you improve and continue an active lifestyle?
Search out and provide links to your local leisure and sports services.
Provide you with a lead to your local instructors, coaches and activity groups.
Direct referral to local national exercise referral schemes.
Come along with you to a few sessions for support if you want us to.
Connect you scratch up with you for a virtual, 1 to 1 or group, sessions on on-demand videos via BEAM.
When he is your exercise service available?
8:30 am to 430 pm, Monday to Friday - for inpatient on outpatient basis.
The gym space and coaching are always available to you, by booking a times lot.
Why not take advantage of the opportunity during your admission and at your clinic appointments/meetings with your CF Centre team.
How we stay in contact?
Text: 02920 71 5912/ 02920 71 5913
Telephone: 07875 565 687
E-mail:
Web-video link:
Remember
We are at the end of your fingertips!
If distance is a problem, then link up with us via our Web-video link