Sustainable surgery team recognised for their work across anaesthesia and cataract surgery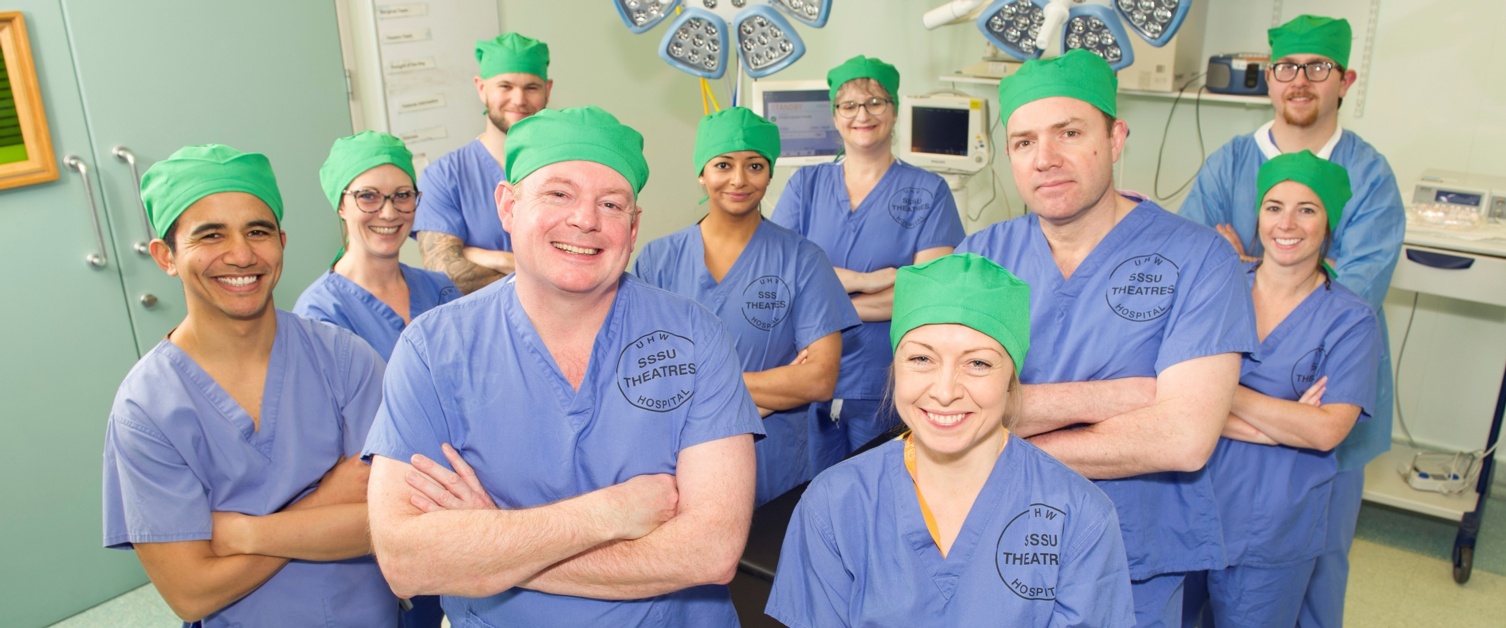 The climate crisis is a threat not just to the planet but to the health of each and every one of us. Welsh Government declared a climate emergency in April 2019 and Health Boards across Wales are required to consider the negative environmental impact of the services they provide.
Climate change presents a major threat to global health. Healthcare alone contributes 5% of the entire global carbon footprint (HCWH 2019) and surgery is known to use high amounts of energy and produce high volumes of waste.
One of the major contributors to the health service's environmental impact is the use of various anaesthetic gases. Some of these gases, used every day across many surgical operations, are potent greenhouse gases, which account for around 5% of the carbon dioxide equivalent (CO2e) emissions of NHS organisations across the UK (SDU 2017).
One of the gases alone, desflurane, accounts for around 80% of CO2e emissions from the use of inhaled anaesthetics and has a climate change impact over 2,500 times worse than carbon dioxide itself.
This problem was recognised by a team of anaesthetists in Cardiff and Vale UHB, who, in September 2018, established Project Drawdown. The aim of this project was to educate healthcare staff about the impact on the climate of the anaesthetic gases they use in their daily practice and see if this alone induced a behaviour change. Within six months, they had reached their initial goal of reducing emissions by 50% from baseline.
Working with the Accelerate programme, which is part of the Life Sciences Hub Wales, the team hosted a Sustainable Anaesthesia Innovation Conference in June 2019. Out of this conference, they formed the Welsh Environmental Anaesthetic Network (WEAN) with the goal of reducing the CO2e emissions of inhalational anaesthetics by 80% across Wales by 2021.
By taking this coordinated approach, Cardiff and Vale UHB has seen its desflurane use drop by 95%, a CO2e saving of over 87,000kg per month (an 86% drop in emissions) and a cost saving of around £80,000 each year.
This success has been replicated across Wales, with fifteen out of the 18 acute Welsh hospitals engaged with reducing their emissions from inhalational anaesthetic agents. To date, there has been an 80% reduction in usage of desflurane across the sites that have supplied full data, which translates to a 72% reduction in CO2e emissions or a monthly CO2e saving of around 175,000kg (an equivalent amount is generated by flying between New York and London 1943 times).
Cataract surgery is the single most common operation performed in the UK and has huge quality of life implications to patients as it restores their eyesight. Previous research in Cardiff highlighted for the first time the high carbon footprint of cataract surgery in the UK compared with other countries, such as India.
Surgeons based in Cardiff and Vale UHB introduced a novel quality improvement tool (the Eyefficiency App) to five different hospitals in Wales. This allows real-time analysis of both productivity and carbon footprint of a cataract operating list. The app has been developed to facilitate audit, measure carbon emissions, encourage best practice but also help raise awareness of resource management.
Key stakeholders included patients, surgeons, anaesthetists, ward nurses, theatre staff, estates managers, theatre managers and in the community both GP's and optometrists. Using the app, they showed a 33% reduction in carbon emissions from cataract surgery using simple measures such as reducing visits to hospital, using energy efficient lighting, reducing waste and working with industry to improve the supply chain and minimise packaging.
For both streams of work, the team has been recognised by the British Medical Journal and were finalists in the 2020 BMJ awards in the category of Environmental Sustainability and Climate Action Team of the year.
Dr Fiona Brennan, Consultant Anaesthetist at Cardiff and Vale UHB and co-founder of WEAN, said, "We are incredibly proud of the work that our network has achieved so far but we recognise this is just the low hanging fruit within anaesthesia and that there is much more to do. Anaesthetics is just one part of our enormous health system. It is our hope that when we look to the future following the COVID-19 pandemic, environmental health and sustainability is at the heart of the recovery of the NHS and wider society in Wales."
Dan Morris, Consultant Ophthalmologist in Cardiff, said "Getting to the finals of the BMJ Awards this year was a fantastic endorsement of the work that the whole team has been doing to make healthcare more sustainable in Wales, but there is a long way to go before we meet that goal of a carbon neutral NHS by 2030. Perhaps one of the few positive aspects of the COVID-19 pandemic is the opportunity to reset and rethink our pathways and processes to make them leaner and greener to improve patient care and protect the environment for future generations."
The COVID-19 pandemic has created even more environmental challenges, and Dr Fiona Brennan and Mr Dan Morris have been working with the Accelerate team to design a concept for a sustainable modular twin operating theatre in the hope that this may ease the burden both on the waiting list and the environment in the future.
**Please Note: the photograph accompanying this article was taken prior to the COVID-19 pandemic**