Recovery & Wellbeing College Launches Spring Term Prospectus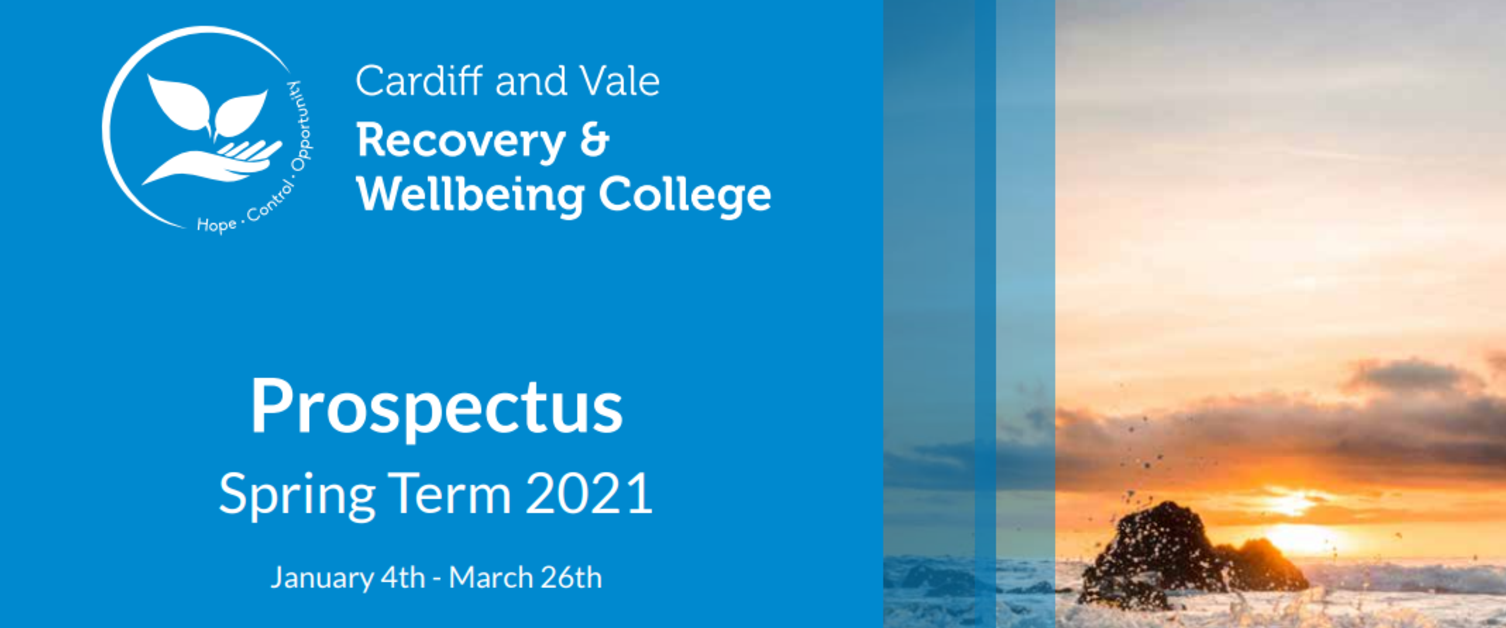 Cardiff and Vale Recovery & Wellbeing College is excited to announce the launch of its Spring Term Prospectus, offering 17 free courses on a range of mental health and wellbeing topics. Courses available this term include; Understanding Anxiety, Men and Mental Health, Trauma Informed, Fighting Fit for Recovery and many more.
The Recovery & Wellbeing College is underpinned by the principles of co-production and recovery, is flexible, education-focused and has the promotion of wellbeing at its core. All of the courses on offer are co-produced by people with lived experience of mental health issues and mental health professionals.
The initiative has been a huge success for the Health Board since it came to fruition in September 2020. In its first term, the Recovery & Wellbeing College offered 12 courses, had 298 enrolments and delivered over 103 hours of teaching. This term, with 17 courses available, a growing team and an expanding network of excellent partnerships with the Third Sector, the Recovery & Wellbeing College will continue to offer more choice to its students.
Courses are available to individuals who are currently using or have used mental health services, their carers, all Health Board staff, or people working in mental health in the Local Authority and Charitable sectors. Anyone who enrols on a course signs up as a student and is welcomed to the college to learn, aiding their understanding and awareness of mental health issues, and subsequently supporting recovery.
Hannah Morland-Jones, Peer Lead and Recovery College Manager, said: "It was fantastic to see a huge appetite across Cardiff and Vale for the Recovery & Wellbeing College in its first term. We are forever grateful to all of the organisations that help us deliver an excellent course offering, but most importantly, the students that have enrolled and taken advantage of this opportunity to understand more about their mental health and use learning to enhance their recovery or that of others. We are very proud of the safe environment we are creating that fosters open conversations and learning. There are so many excellent courses in our Spring Term Prospectus, all co-produced by people with lived experience – we'd encourage people to take a look."
Anyone who may be apprehensive about enrolling with the Recovery & Wellbeing College are encouraged to reach out to the friendly team for an informal conversation to help ease any reservations. There are also a series of insight videos on our YouTube playlist that will give you a feel for what it's like to be a student, how the courses are co-produced and what makes the college so different.
You can access the full Spring Term Prospectus via the Recovery & Wellbeing College web page.