Cardiff Residents Favour Digital and Alternative Ways of Accessing Local NHS Services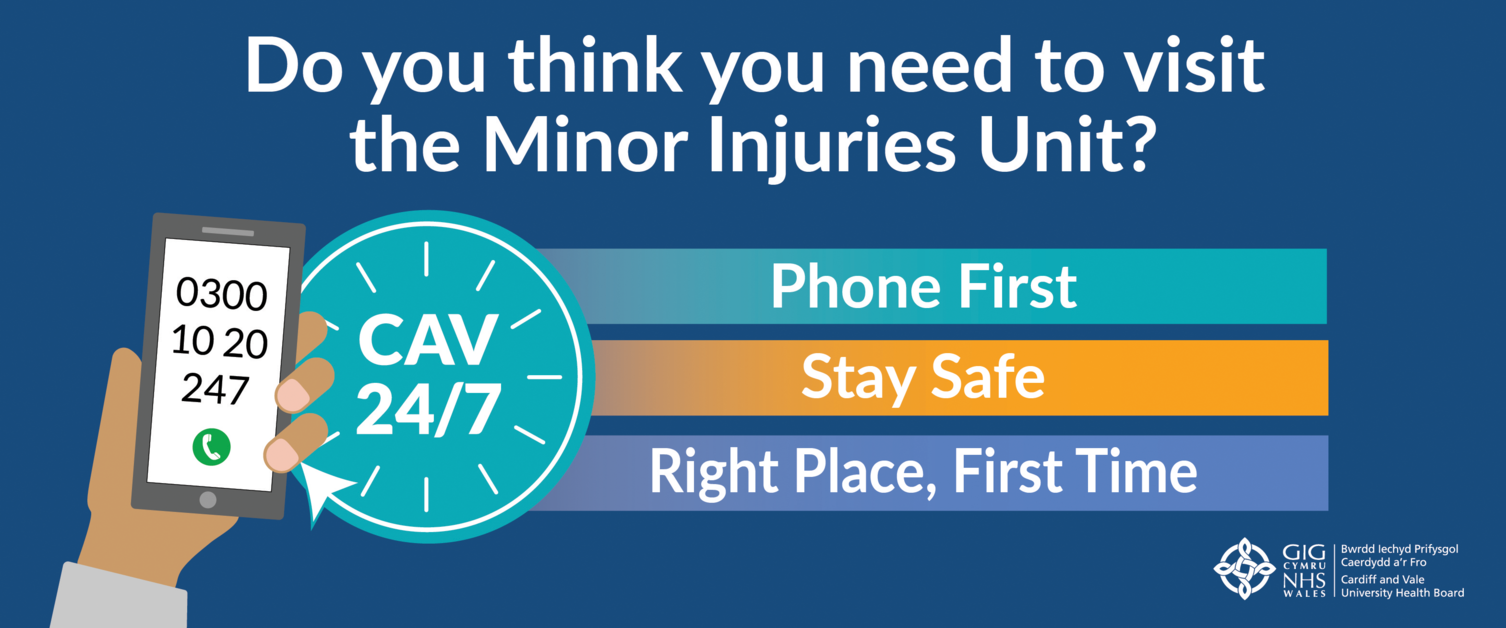 The coronavirus pandemic has positively highlighted the wide variety of NHS services available for public access and introduced new ways as a result. This has led to a significant shift in the way people are now accessing the NHS, with more than a third (35 percent) of residents in Cardiff saying they are happy to continue to use services such as virtual appointments, even when restrictions are lifted.
A consequence of Covid -19 was an immediate review and change of the working environment within the Emergency Unit, to incorporate social distancing and the ability to define patient streams relating to the presence Covid-19 symptoms.
Cardiff and Vale University Health Board's CAV 24/7 service has been able to successfully divert some patients who would normally wait in the Emergency Unit to alternative services and provide quicker routes of treatment.
The recent YouGov survey carried out for the Welsh Government's 'Help Us, Help You' campaign highlighted the overwhelming public support in Cardiff for accessing the NHS in new and different ways with over nine in 10 (93 percent) of those surveyed agreeing it is important if you have a non-serious injury (e.g. fractures, dislocations, sprains and strains to wounds, minor burns, stings, minor back or neck injuries, etc.) to make an appointment with a Minor Injury Unit (MIU) instead of going to the Emergency Unit.
The CAV 24/7 service relies on patients calling ahead and being referred to the correct department or service, resulting in patients being seen quicker, by the right person, first time.
Anthony Goodwin Operational Manager OOH GP Service, Cardiff and Vale University Health Board said: "The way you access NHS services has changed but we are still here for you. Our CAV 24/7 service was deployed as a direct response to the pandemic. We knew the service would be an asset to us. The aim was to ultimately relieve pressured areas of the health board such as the Emergency Unit while mitigating the number of people accessing emergency level care for common ailments and injuries that could be seen more effectively elsewhere."
By promoting CAV 24/7, the health board has been able to refer people to Minor Injuries Units like the one situated in Barry which has reduced daily footfall within the University Hospital of Wales' Emergency Unit. While the results showed that over half (52 percent) of people in Cardiff were unaware of a Minor Injuries Unit, the health board is keen to educate residents on what the service does provide and how it differentiates from an Emergency Unit.
A Minor Injuries Unit is only accessible to those who phone first and don't just turn up and can treat the following injuries: cuts and grazes, sprains and strains, broken or fractured bones, infected wounds and minor head injuries. For anything life or limb threatening, you must call 999 or CAV 24/7 where you will be directed to the Emergency Unit.
Anthony continued: "People who have used the CAV 24/7 service, who ordinarily would have turned up to our Emergency Unit have been really understanding about our referrals and this has helped to educate patients about what services are best placed to treat their different needs.
"The other positive for patients is that we are able to gauge capacity of services across the health board and work by local availability. For example, if you live in Barry, we aim to get you seen at the local Minor Injuries Unit there rather than have you travel to UHW to be treated. People have been positive to learn about the alternatives as it has meant them often being seen quicker.
"We've been overwhelmed by the response of virtual and video-based appointments and this will undoubtedly continue as restrictions begin easing and people get back to working away from home again. This option hasn't just reduced waiting times, but it has also allowed our workers to minimise their contact within people's homes and care homes which has helped to reduce the spread of the virus.
"My message to anyone who hasn't already used CAV 24/7 is the following: call the number if you have an urgent health issue that you think needs to be seen in the emergency unit and you don't think your GP would ordinarily be able to deal with. If we feel you need to be seen, we will refer and facilitate a time slot for attendance for you with the right service whether that be an emergency department, a local pharmacy, the Minor Injuries Unit, an optometrist or self-care. In some cases, it may be appropriate to refer back to your own GP."
By calling CAV 24/7 on 0300 10 20 247 a call handler will take the call and make an initial assessment. You will get a call back from a clinician within 20 minutes if urgent or 1 hour if less urgent. If needed, you will be given an appointment with the appropriate service.